24/7 Account Access
Whether you're out running errands, traveling to visit family, or in the comfort of your own home, MSUFCU understands it's important to have complete access to your funds.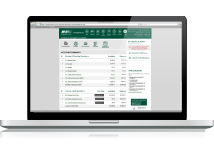 Use MSUFCU's free online banking system to manage your account and complete over 40 transactions anytime, anywhere as long as you have internet access.
ComputerLine Features
---
Check your account balance

Transfer money between your accounts

Deposit checks via eDeposit
View your FICO® Score for free, updated quarterly1

Make loan payments

View check images

Set up ACH transfers from other financial institutions

View, save, or print eStatements

and more!
Need a ComputerLine password? Request a password online.
1 FICO is a registered trademark of Fair Isaac Corporation in the United States and other countries.
---
We know that life can move fast, that's why MSUFCU is offering eAlerts1, a convenient way to keep track of your account when you're on the go. eAlerts are provided at no charge2 and provide you information about your MSUFCU account via text message or email. Message and data rates may apply. Text HELP to 678328 for more information. Text STOP to 678328 to cancel. For more information visit SMS Terms and Conditions and view MSUFCU's Privacy Policy.
You will no longer have to log into ComputerLine to see if your payroll check was deposited or if the utility check was cashed, an alert will be sent to your phone and/or email as soon as the transaction has posted giving you all of the information you will need.
eAlerts can be set up to provide a text message and/or email for the following:

Daily account balance

Share and loan transactions

Check clearings

Loan/share balances go above or below a certain amount

Password, Phone, Address, and Email updates

NSF and Courtesy Pay fees

Payment due date reminder

Payment received

Many more!

To enroll in eAlerts log into your ComputerLine account and select My eAlerts from the submenu on the Account Summary page. You can control what information you receive and how often. Enjoy the peace of mind that you have full control of your account.
If you do not want to enroll to receive messages on a regular basis you can text in to receive information anytime, anywhere, whether you are a member or not.


Text the following commands to 678328 for the corresponding information:
BAL - Available share balance3
AVAIL - Available credit3
HISTORY - Transaction history3
ATM - ATM locations (by GPS or zip code)
BRANCH - Branch locations (by GPS or zip code)
HOURS - Hours of operation
EVENTS - Upcoming events
ROUTING - Routing number
SWIFT - Swift code
RATES - Current rates
NEWS - What's new at MSUFCU
TIPS - Financial tips
WIN - Text to win promotions
MENU - Provides a list of available eAlert options
HELP - Provides user with a list of help options
STOP - Opts out of all SMS alert enrollments
1 SMS Terms & Conditions: Text STOP to 678328 to opt out at any time. For help at any time, text HELP to 678328. For additional support, email us at eServices@msufcu.org. Message and Data Rates May Apply.There is no charge from MSUFCU for these periodic messages; however, standard text messaging rates apply. Please see your cell phone provider for details. MSUFCU account and ComputerLine access required. Visit www.msufcu.org/disclosures for all terms and conditions and Privacy Policy.
This Service is available on the following carriers: AT&T, Alltel, T-Mobile, Verizon Wireless, U.S. Cellular, Sprint, MetroPCS, Boost, Cellcom, Cellular One, Cellular South, Cincinnati Bell, nTelos, Virgin Mobile, ACS Wireless, Bluegrass, ECIT - Cellular One of Central Illinois, EKN - Appalachian Wirelsss, GCI Communications, Immix - PC Management, Inland Cellular, IVC - Illinois Valley Cellular, Nex-Tech Wireless, RCC/Unicel, Revol, RINA/ALL West Wireless, RINA/CTC Telecom-Cambridge, RINA/FMTC-Farmers Mutual Telephone Co., RINA/Nucla-Naturita Telephone Co., RINA/Silverstar, RINA/Snake River PCS, RINA/South Central, RINA/Syringa Wireless, RINA/UBET, West Central Wireless.
2 There is no charge from MSUFCU, however, standard text messaging rates apply. Please see your cell phone provider for details.
3 MSUFCU account and ComputerLine access required.
---