Branch Services
More services to fit your financial needs. MSUFCU offers the following services at our branches only.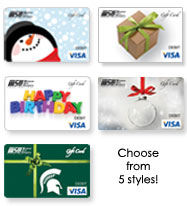 Give the gift everyone will love: an MSUFCU Visa Gift Card! Visa Gift Cards are the perfect gift for any occasion, because you decide the amounts and let the gift card recipients purchase exactly what they want.
Benefits
Use anywhere Visa Debit Cards are accepted, including retail stores and online merchants

Available in amounts from $25 to $1,000
MSUFCU members can purchase Visa Gift Cards for a small fee of $4.00 per card at any MSUFCU branch. For additional information, view the Frequently Asked Questions, visit an MSUFCU branch, or call 800-678-4968.*
To obtain specific information about your gift card account, including your remaining balance, transaction inquiries and customer service, visit www.harlandclarkgiftcard.com or call 866-244-5360.
*Please review the MSUFCU Visa Gift Card Program Terms and Conditions for full details.
---
Traveling abroad? Have international currency on hand before you arrive at your destination! MSUFCU members can order international currency at any of our branch locations or through our Call Center for a flat $14 fee.
Currency can be shipped directly to your US home address or to an MSUFCU branch. Order your currency before 2:00 p.m., and the following currency types will arrive the next day:
Australian Dollar

Canadian Dollar

English Pounds

Euros

Hong Kong Dollar

Japanese Yen

Swedish Kroner

Swiss Franc
All other currency types will usually arrive within two to three business days of being ordered.
Please note that MSUFCU does not accept international currency for deposit or exchange at this time.
---