Branch Services
More services to fit your financial needs. MSUFCU offers the following services at our branches only.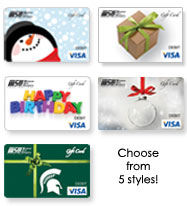 Give the gift everyone will love: an MSUFCU Visa Gift Card! Visa Gift Cards are the perfect gift for any occasion, because you decide the amounts and let the gift card recipients purchase exactly what they want.
Benefits
Use anywhere Visa Debit Cards are accepted, including retail stores and online merchants

Available in amounts from $25 to $1,000
MSUFCU members can purchase Visa Gift Cards for a small fee of $4.00 per card at any MSUFCU branch. For additional information, view the Frequently Asked Questions, visit an MSUFCU branch, or call 800-678-4968.*
To obtain specific information about your gift card account, including your remaining balance, transaction inquiries and customer service, visit www.harlandclarkgiftcard.com or call 866-244-5360.
*Please review the MSUFCU Visa Gift Card Program Terms and Conditions for full details.
---
Notary Public
---
MSUFCU provides free1 notary services to our members at each branch. Signatures are notarized to protect against document fraud, certify that the signature is genuine and was made willingly and freely.
Required Information and Documents Needed by Member
---
Document to be notarized

One of the following forms of photo identification:

Driver's License

State ID

Military ID

Passport
1 Two pages are notarized for free. Each additional page is $1.00.
Signature Guarantees
---
MSUFCU provides signature guarantees for members intending to transfer or trade registered securities such as stocks, bonds, or mutual funds.
Required Information and Documents Needed by Member
---
One of the following forms of photo identification:

Driver's License

State ID

Military ID

Passport




Proof of legal ownership must be presented on an official document that reflects the owner(s) name and account number:

Actual stock certificate

Recent statement of account
All owners of the security/asset must appear and endorse the document(s) in person at the same time. We also require the amount of the transaction (that can be found on the statement).
In the event of a name change due to marriage, divorce, death, or a trust account, additional documentation will be required as appropriate:

Marriage License

Divorce Decree

Death Certificate

Trust Document
Authorized guarantors can be found at any branch. No appointment necessary.
---
Protect Your Valuables
MSUFCU's Safe Deposit Boxes offer a secure place to store your important documents or valuables, keeping them safe from misplacement, fire, or theft.
Sizes and Annual Rates
---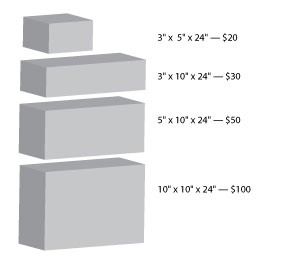 First payment is to be made on the first day of the next month after the Safe Deposit Box is opened/rented. This date will then be known as the anniversary date. Future payments will be automatically debited from your account on the anniversary date.
Location and Access
---
Safe Deposit Boxes are located in the lower level of the Headquarters Building. With your lease you will receive two keys and have access to a private viewing room. An MSUFCU staff member will be available to escort you to the lower level and you must have a copy of one of your keys with you. Boxes are available for access Monday through Saturday during regular business hours.
Reserve a Safe Deposit Box
---
Visit the Headquarters Branch to reserve your Safe Deposit Box today. Call 517-333-2424 or 800-678-4968 to check the availability of specific sizes. Available space is limited and boxes are offered on a first-come, first serve basis.
---