Account Maintenance Made Easy

MSUFCU's electronic services make handling your account hassle-free.
Bill Payment takes the hassle out of paying your monthly bills. Set up payments in ComputerLine to come from your MSUFCU Checking account automatically or as needed. Best of all, Bill Payment is FREE.
With Bill Payment, members can:
Pay Bills

Make Person-to-Person Transfers

Make Account-to-Account Transfers

Send Donation Payments

Send Gift Checks

Set Up Recurring or Single Payments
Bill Payment Requirements
---
An MSUFCU Checking Account*
ComputerLine Access
To access Bill Payment, simply login to ComputerLine and select Bill Payment in the top menu.
*An Insured Money Management Account (IMMA) is considered a savings account and can not be used for Bill Payment.
---

View your account statements online with eStatements. A 3-year history of your statements is stored in ComputerLine and you can view, save, and print your statement whenever you want.
Get Started with eStatements
---
All you need to receive eStatements is ComputerLine access and a valid email address. Just sign into your account and click the My eAlerts icon. Click Notification Settings and you'll be able to designate which statements you'd like to receive electronically.

Available eStatements and eNotices
---
Visa eStatements offer you a fast and easy solution for viewing your Visa statement and making an online Visa payment.

Transaction Notices are sent via email and will inform you immediately if you have an overdraft transfer, an NSF check or Courtesy Pay transaction.

IRS Tax Form Notices are sent via email to inform you when your MSUFCU IRS Tax Forms (1098, 1099INT, 1099MISC, 1099Q, 1099R, 5498, and 5498ESA) are available to view, save, or print.

Loan Billing eNotices will notify you that your loan payment will be due soon or that the payment is late.
---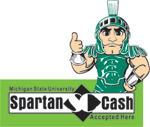 MSU's Spartan Cash Account is a prepaid account available to MSU faculty, staff, and students. It can be used to purchase goods and services at participating locations—just look for the Spartan Cash logo!
Spartan Cash Transfers will make funding your MSU Spartan Cash Account easier than ever! MSUFCU members now have the ability to transfer funds directly from their MSUFCU accounts to an MSU Spartan Cash Account.

Sign into your ComputerLine account, select the Manage menu, and choose the MSU Spartan Cash option under MSUFCU Services.
Spartan Cash Transfers Requirements
MSU NetID (MSU username)

PID (MSU personal identification number)
More Details
Minimum transfer amount is $5.00.




MSUFCU members are able to set up and transfer to more than one Spartan Cash Account in ComputerLine.




Fund Now Spartan Cash Transfers are withdrawn from your MSUFCU account immediately and should be available within your Spartan Cash Account within one hour.

Fund Now transfers performed from 11:30 p.m. – 6:00 a.m. will not be available immediately but will be deposited to your Spartan Cash Account before 8:00 a.m.




Scheduled transfers can be set up to transfer funds on a specific day or on a weekly, biweekly, or monthly basis.
If you have questions regarding MSU's Spartan Cash Account, please contact the Spartan Cash Office at 517-355-2274 or www.spartancash.com.
---