Account Maintenance Made Easy

MSUFCU's electronic services make handling your account hassle-free.
Direct deposit is the safe, simple way to have your paycheck, federal benefits, or tax refunds deposited automatically to your saving or checking account. There is no need to worry about making it to one of our branches if you are sick or out of town, plus it is safer than receiving paper checks because the funds cannot be lost, stolen, or tampered with in the mail.
Check with your employer to see if you are eligible for direct deposit into your MSUFCU account. To set up direct deposit, you will need:
Your MSUFCU base account number and two-digit suffix designating your checking or savings account.

MSUFCU's routing number: 272479663
Michigan State University Employees
MSU employees who are on MSU's payroll should enroll for direct deposit through MSU's ePayroll system.
State of Michigan and U.S. Government Employees
Print out the appropriate form1 below, complete and mail to:
MSUFCU Accounting Department
PO Box 1208
East Lansing, MI 48826-1208

State of Michigan Direct Deposit Form
U.S. Government Direct Deposit Form
Social Security, SSI, and other Federal Benefits
Members who currently receive Social Security or SSI Benefits can switch to direct deposit at GoDirect.gov or calling the Social Security Office toll-free at 800-772-1213 (TTY 800-325-0778).
1Adobe Acrobat is needed to view this document. Download this free software at www.adobe.com/products/acrobat/readstep.html
---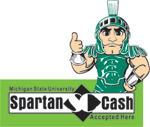 MSU's Spartan Cash Account is a prepaid account available to MSU faculty, staff, and students. It can be used to purchase goods and services at participating locations—just look for the Spartan Cash logo!
Spartan Cash Transfers will make funding your MSU Spartan Cash Account easier than ever! MSUFCU members now have the ability to transfer funds directly from their MSUFCU accounts to an MSU Spartan Cash Account.

Sign into your ComputerLine account, select the Manage menu, and choose the MSU Spartan Cash option under MSUFCU Services.
Spartan Cash Transfers Requirements
MSU NetID (MSU username)

PID (MSU personal identification number)
More Details
Minimum transfer amount is $5.00.




MSUFCU members are able to set up and transfer to more than one Spartan Cash Account in ComputerLine.




Fund Now Spartan Cash Transfers are withdrawn from your MSUFCU account immediately and should be available within your Spartan Cash Account within one hour.

Fund Now transfers performed from 11:30 p.m. – 6:00 a.m. will not be available immediately but will be deposited to your Spartan Cash Account before 8:00 a.m.




Scheduled transfers can be set up to transfer funds on a specific day or on a weekly, biweekly, or monthly basis.
If you have questions regarding MSU's Spartan Cash Account, please contact the Spartan Cash Office at 517-355-2274 or www.spartancash.com.
---