Fun Things to Do in Lansing in June
June 1, 2016
Adrienne H., Financial Expert
Hello, SUMMER! Longer days. Warmer temperatures. There's so much to do in Lansing this season. From festivals and races to live performance series, these local events will help you make the most of it!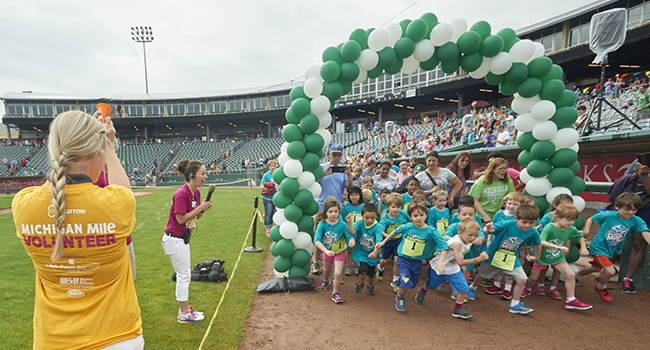 June 2 | Hidden Key Fashion Show (Sponsored by MSUFCU)
Join The Aitch Foundation at a unique event that combines athletics, fashion, and cancer research. You will have the chance to see Michigan State University coaches and former athletes, members of the Greater Lansing community, and cancer survivors on the runway modeling different local designers, including the one and only, Lauren Aitch's Lady Aitch Designs. Funds raised from the fashion show will help The Aitch Foundation sponsor vital research at MSU aimed at early detection of hidden cancers.
Season starts June 3 | East Lansing Family Aquatic Center
Make a splash this summer at the interactive outdoor water park for a safe and fun family experience. With 140-foot and 190-foot water slides, a drop slide, diving board, and splash park, the aquatic adventures are endless! Staying all day? Grab a bite to eat at the concession stand or bring your own picnic to enjoy your lunch by the pool.
June 4 | Be a Tourist in Your Own Town
If you're a Greater Lansing local, you might think you've seen everything there is to see in the area. But, for only $1.00, you can have the VIP visitor treatment with deals to more than 80 local businesses and access to places not usually opened to the public. With your passport, you will be able to see what it's like be a Channel 6 News weather anchor, enjoy free yoga sessions, Model T rides, admission to Impression 5 Science Center, a State Capitol Building tour, and much more! Make sure to check out the colorful downtown streets at Chalk of the Town in Lansing's Old Town, too.
June 4 | Sparrow Michigan Mile and KIDSPRINT (Sponsored by MSUFCU)
Participate in a one-mile run and great day of fun at Cooley Law School Stadium—the home of the Lansing Lugnuts! The Sparrow Michigan Mile is a one-mile run for kids ages 13 years and younger. Children under six years of age may participate in the KIDSPRINT, presented by MSUFCU, which takes place on the track inside the stadium. All proceeds support Sparrow Foundation and their efforts in increasing physical activity and children's health. Participants will receive a race bag, t-shirt, and medal.
Season starts June 8 | Summer Circle Theatre
Relax and enjoy free outdoor performances of new plays and musicals, as well as old favorites. To kick-off the season, the MSU Department of Theatre will perform Rodgers and Hammerstein's A Grand Night for Singing in the outdoor theater next to the MSU Auditorium. There will be a variety of shows to enjoy this summer and a free Summer Circle Theatre kids camp. For the full unique theater experience, bring a picnic dinner, blanket or chairs, and get comfortable!
June 11 | Celebrate Meridian (Children's Area Sponsored by MSUFCU)
Hang out in Okemos and Haslett for a day packed with fun at the annual Celebrate Meridian event. The day will include activities such as a fishing derby, fire hose spraying, community mural painting, and free kiddie rides, including a Ferris wheel, Merry-Go-Round, and inflatable obstacle course. You'll find loads of fun across both towns. Don't forget to check out the arts and crafts fair and pet adoption! At the end of the day, you can enjoy live musical performances, as well as delicious food and drinks for a relaxing evening in Downtown Okemos.
June 12 | Greater Lansing Kidney Walk (Sponsored by MSUFCU)
Support the National Kidney Foundation of Michigan at the Greater Lansing Kidney Walk. Located in Lansing's Hawk Island County Park, walkers will enjoy a scenic stroll, lunch, free parking, and live entertainment, as well as VIP treatments for kidney patients. With many exciting activities for kids, this event offers fun for the whole family!
Season starts June 14 | Summer Music Series
Looking for a fun, weeknight activity this summer? Check out the Center Court at Eastwood Towne Center for free live music on Tuesday nights from June 14 through August 23.
June 17-18 | Summer Solstice Jazz Festival (Sponsored by MSUFCU)
Make your way to Downtown East Lansing for dancing, and live music by local and national performers at the 20th anniversary celebration of the Summer Solstice Jazz Festival. See 2012 Grammy Award-winner and MSU alumnus Ben Williams perform, along with a variety of jazz performances packed in this two-day event. With a children's activity area and jazz cafés, you will find fun for the whole family!
June 19-26 | Red Cedar Jubilee
Have some "summer fun in the sun" at the Red Cedar Jubilee in Downtown Williamston. There will be live music and parades along with craft shows, an enduro derby, lawn mower races, a duck drop, and delicious food available all week.
June 25 | Family Funday & KayakCanoe-a-thon
Building TwentyOne, a non-profit teen center, invites paddlers and families to come together for a day of kayaking, canoeing, and tons of family fun, including inflatables and carnival games. All proceeds will help support Building TwentyOne's teen-driven after school activities and new programs, as well as encourage teen students to be involved in non-motorized outdoor recreational sports and activities. By attending this event, you'll be able to have fun and give back!
June 26 | Yappy Hour
Are you a dog owner who loves to pamper your puppy? We Love Kids N Dogs pet store in Okemos is hosting a Dog Days of Summer Party filled with frozen summertime treats, giveaways, and activities just for doggies! You'll even be able to show off your dog's summer fashion flair in the summertime costume contest.
June 28 | MSUFCU Kids' Night at Eastwood Towne Center (Sponsored by MSUFCU)
Rock out with MSUFCU at Eastwood Towne Center for a special Summer Music Series event just for kids! With FREE live music by Tim the Music Man, face painting, balloon animals, henna tattoos, space launch demos, awesome prizes, and more, there will be fun activities for the entire family.
Tags: Community
---