52-Week Challenge Mid-Year Check-in
July 1, 2016
Val T., Financial Expert
July 1 marks the mid-point of the year. Can you believe it? We're halfway through 2016!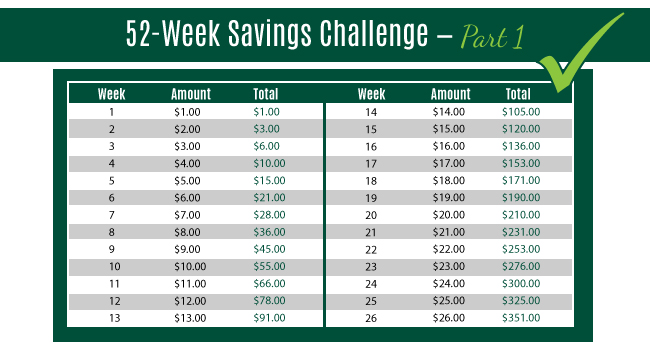 At the end of last year, Eileen wrote a post about the 52-Week Savings Challenge. I accepted that challenge and on the first Sunday of 2016, I made my first deposit into a 1-Year Add-On Certificate. This Certificate is great because I can make unlimited deposits and I know the funds are off-limits (unless I want to incur a penalty for withdrawing the funds before the Certificate matures).
Savings Goal
Eileen mentioned that by sticking with the challenge, you'll have over $1,300 saved! That's a great goal for me, as it will help with a down payment for a new car. I leased my current car a few years ago and in January 2017, it'll be time to either:
a) give it back
b) lease a new car
c) buy the car.
I plan to return the car and buy a reliable used car. So, I'm going to use the money I save to pay for any mileage overage and put the rest toward a down payment.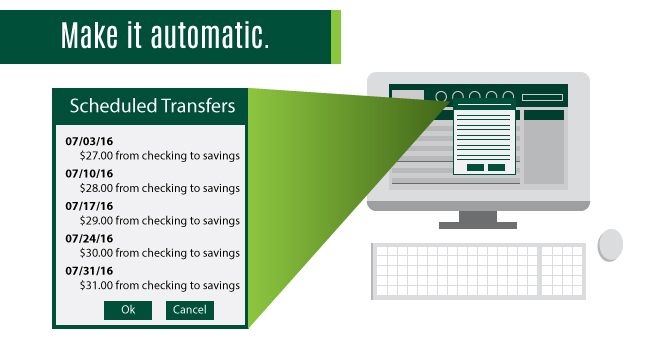 How's the Challenge Going?
The first quarter of the year was pretty easy. But, in the last month or so it's gotten a little harder to save $20+ each week. I've automated the savings deposits by setting up a bunch of one-time transfers to my 1-Year Add-On Certificate in my ComputerLine account. This way I stay on track with the savings challenge without having to think about it each week.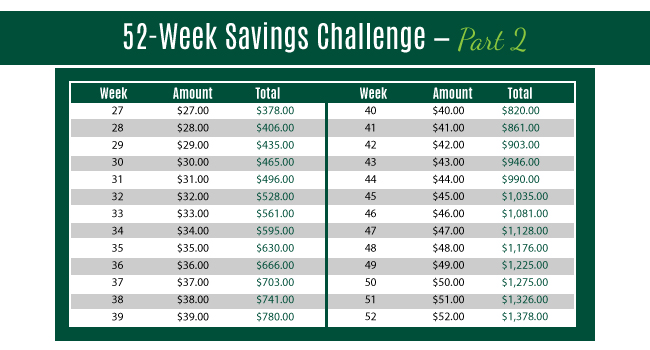 Switching It Up
Like I said, it's starting to get a bit tougher as the weekly amounts increase. I've started making coffee at home and bringing my lunch to work several times a week. I'm using the odds and ends of kitchen ingredients (which is really upping my culinary skills), but I still may need to switch up my saving strategy to stay on track. By the end of July weekly amounts will be in the $30+ range and sometimes I forget about that automated transfer that happens on Sunday.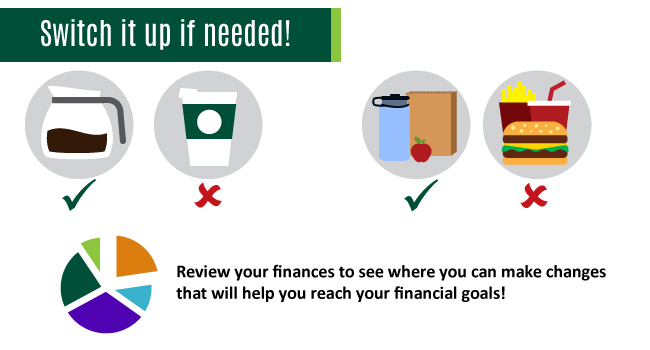 I will probably try doubling up on payday. After I've paid all my bills, I'll transfer enough money to my savings challenge account to cover the next two weeks of savings deposits. If I find that doesn't work well, then I may need to make more tweaks to my saving strategy.
If you're tackling the 52-Week Savings Challenge, how is it going? Have you modified your plan? Leave a comment, let's hear about it!
Tags: Savings, Money Management, Tips and Tricks
---