Fun Things to Do in Lansing in July
June 30, 2016
Adrienne H., Financial Expert
As the summer heats up, look for something cool to do. Take a look at these upcoming events so you can keep having fun in the sun!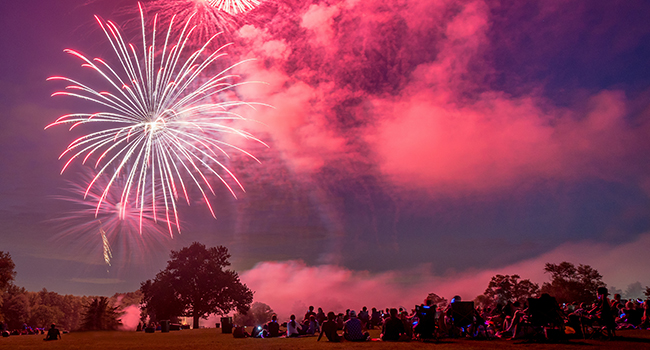 July 1 | Arts Night Out (Sponsored by MSUFCU)
Looking for some Friday night fun to kick off your holiday weekend? Just when you think, "there's nothing to do," Arts Night Out is the cool and creative event series that transforms Greater Lansing areas into vibrant spaces through the arts. Come to Lansing's Old Town to enjoy various venues full of live music and theatrical performances, food trucks with delicious eats, and discover the talents of many local artists.
July 3 | Delta Township Fireworks (Sponsored by MSUFCU)
Get a head start to the upcoming holiday with fireworks in Sharp Park! Bring a blanket and chair, and enjoy the evening with thousands of other local residents as you watch the beautiful fireworks display.
July 4 | Independence Day Celebrations
There are many festivities planned in the Lansing area on the fourth of July. From parades to fireworks, have a safe and fun holiday at these local events in Downtown Lansing, Mason, and Meridian Township!
July 5-10 | Common Ground Music Festival
Lansing's annual weeklong music festival is just around the corner. Whether you're a fan of country, hip-hop, alternative, or R&B, this festival has something to fit your musical tastes. From GRAMMY winner Tim McGraw, and singer, songwriter, and dancer Jason Derulo, to regional performers, Common Ground provides attendees with a diverse selection of musical genres. Buy a pass for the entire week or get a daily pass to use any day of the week to see your favorites.
July 11-16 | Eaton County Fair
Get your fill of cotton candy, elephant ears, and carnival rides at the Eaton County Fair. Check out the fair schedule online as there will be various events at the Grandstand throughout the week, including tractor pulls, motor cross, and monster trucks!
July 14 | Acoustic Lunch
Tired of the same lunch routine? Make your lunch break more entertaining by visiting the Broad Art Museum for a free hour of acoustic tunes performed by Tom Mason and The Blue Buccaneers. Bring your lunch, come with friends or colleagues, and enjoy the musical melodies on MSU's campus.
July 15 | Meadows Celebration
If you didn't see fireworks on the fourth of July or if you can't get enough, you have another chance to see them at Meadows Celebration located at Granger Meadows Park. "Have a blast in the moonlight" with your friends and family as you enjoy face painting, inflatables, a library story walk, photo booth, and much more!
July 15-16 | Old Town ScrapFest
Explore this one-of-a-kind festival where creativity and scraps make for unique sculptures. The two-day festival displays masterpieces created in only two weeks by teams who collected 500 pounds of recycled materials and turned them into unforgettable pieces of art. Additionally, the festival will feature live music, artist booths, educational activities, and more!
July 23 | Ele's Race (Sponsored by MSUFCU)
Get out and get active at this fun-filled family event while helping raise funds and awareness for Ele's Place in Lansing, a healing center for grieving children and teens. There will be a 5K run/walk race for all ages and following the race will be the Playmakers Kids Mile Series for children ages 12 and under.
July 30 | Taste of Downtown (Sponsored by MSUFCU)
This event showcases Lansing's delicious and local cuisine available at various downtown restaurants! Looking for more than food and drinks? You can also enjoy live music at the outdoor stage and the Car Capital Auto Show!
Tags: Community
---