20 Free Things You Can Still Do This Summer in Michigan
July 28, 2016
Adrienne H., Financial Expert
As August quickly approaches, we try to prepare ourselves for the last days of summer. Before the summer fades, weekends become filled with football, and Halloween decorations begin lining store aisles, here are 20 things you can still do to make the most of the warm, sunny days, as well as the rainy ones.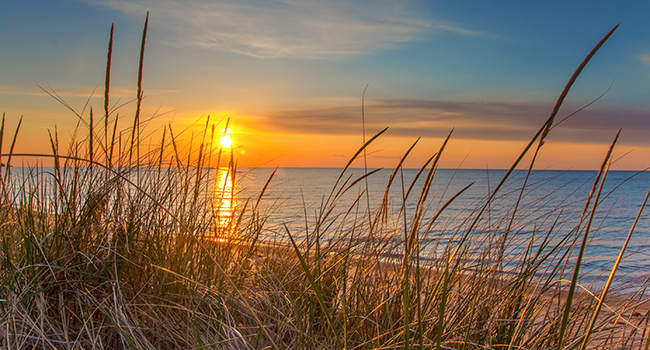 For the Sunny Days:
1. Ledges of Grand Ledge
See the beautiful 300 million year old sedimentary rock along the banks of the Grand River. Explore nature's beauty in Fitzgerald Park with a hike on the ledges, three miles of nature trails, and plenty of picnic spots. The park entrance is free, but there is a motor vehicle parking fee. However, every first Wednesday of the month is free motor vehicle entry day!
2. 4-H Children's Gardens
The indoor and outdoor 4-H Children's Gardens on Michigan State University's campus aren't just for kids. Here you can learn about unique plants, visit the butterfly house, check out the theme gardens, or plan a special photo shoot near the beautiful flowers.
3. Woodward Dream Cruise
Join more than one million people on August 19-20, 2016, at the world's biggest one-day automotive event. From classic cars to custom cars and specialty vehicles, car fanatics come from all over the world to show off their vehicles or watch from the sidewalks of the country's first concrete roadway. Not a car lover? That's ok! There will be a kid's inflatable zone, live entertainment, a 5k Run/Walk, and more all across Woodward.
4. The Heidelberg Project
Heidelberg Street on Detroit's East Side was once affected by crime and violence, which left many abandoned and forgotten neighborhoods in Detroit. Tyree Guyton, a Detroit artist, began the Heidelberg Project in 1986 to improve the lives of people and neighborhoods through art. Now, you can see vacant houses transformed into works of art, each telling their own story and created from recycled and found materials.
5. Grand Haven Musical Fountain
Check out the oldest and second largest musical fountain in the United States at the Grand Haven Waterfront Stadium. The synchronized water and light shows accompanied with a variety of well-known music play daily until Labor Day. Shows will also play on Fridays and Saturdays throughout September.
6. National Park Service Birthday Weekend
In celebration of the National Park Service's 100th birthday, everyone can enjoy free entrance to national parks August 25 through 28. Plan a visit to your favorite park or a new place to enjoy a fee-free opportunity to explore America's nature and history.
7. Headlands International Dark Sky Park
Stargaze along the north Lake Michigan shoreline at one of the ten dark sky parks in the world. As this park is open 24 hours a day, every day of the year, you can have a chance to see the richest part of the Milky Way, and the meteor showers at their peak, which usually occur after midnight.
8. Movies on Deck
All aboard USS LST 393 Veterans Museum for the free film series on Muskegon's downtown waterfront! "Movies on Deck" presents Friday night movies throughout the summer on the big screen on the top deck. Watch the Lake Michigan sunset before the movie starts, and bring your comfy chairs and favorite movie snacks!
9. Enjoy the Lakes
As the state with the longest freshwater coastline in the US (3,288 miles) and more that 10,000 inland lakes, Michigan's lakes make for a great beach day! Splash around, make a sand castle, and read a book on a beautiful Michigan lake this summer.
10. Go to a Dog Park
Take your furry friend and run around with many other wagging tails at a local dog park. There are various dog parks around Michigan that will allow you to socialize and exercise your dog off-leash. Here you can find the top ten dog parks in Michigan ranked by BringFido.com
For the Rainy Days:
11. Michigan State Capitol Building Tour
Did you know that the Capitol building has nine-acres of hand-painted art? You can see it for yourself while learning and hearing stories about Michigan's history. You might also be able to watch a legislative session!
12. Sanders and Morley Candy Makers Factory Tour
Indulge in chocolate paradise at Morley Candy Makers where Sanders chocolates are made. Watch the candy makers create delicious treats while enjoying free chocolate samples.
13. Kilwins Chocolate Kitchen Tour
When visiting northern Michigan, stop by the Kilwins Chocolate Kitchen to see how Kilwins' sweets are made. From truffles and fine chocolates to caramel and brittles, you can see all of the kitchen highlights, as well as free samples at the end of each tour!
14. Home Depot Workshops
Do you have any home improvement ideas? With Home Depot's free Do-It-Yourself, Do-It-Herself, and Kids workshops, you can learn tips and tricks to obtain the skills you need to tackle hundreds of home projects.
15. Detroit Institute of Arts
Residents of Macomb, Oakland, and Wayne counties, and children ages 5 and under can take advantage of free admission to one of the country's premier art museums. For out-of-county residents, you can enjoy free-guided tours with ticket purchases. Don't forget to check out the drop-in art workshops, drawing in the galleries, storytelling, and live music that are fun for the whole family and free with admission!
16. Eli & Edythe Broad Art Museum
Check out the exhibitions and contemporary art collections at the Broad Art Museum on MSU's campus, as well as the building's awesomely unique architecture. Bring the whole family for fun activities to Family Day held the first Saturday of every month.
17. Make Your Own Masterpiece
Get creative and do a craft project with common household items. Websites like Pinterest offer a variety of craft ideas for all ages and levels of expertise.
18. GM Renaissance Center Tour
Visit one of Michigan's most iconic landmarks to learn about the history and see the premier entertainment and social destinations of Detroit. The complimentary tour features a glass elevator ride to the 72nd floor and a 360° view of two countries!
19. Mackinaw Bridge Museum
Learn about the construction and history of one of the world's largest suspension bridge, the Mighty Mac. The museum, created by one of the Ironworkers who built the bridge, is a free popular attraction in Mackinaw City that features the original spinning wheel, a diving suit, and many tools used during construction.
20. Volunteer at a Local Organization
Various charities and programs in your area can always use an extra hand. From playing cards with the elderly or helping pets at the animal shelter, see what you can do to give back to your community. Volunteering is free, but the reward is worth much more.
Enjoy these fun activities while soaking up your last days of summer 2016!
Tags: Community, Savings, Tips and Tricks
---