Fun Things to Do in Lansing in October
October 1, 2016
Adrienne H., Financial Expert
Fall is in full swing and Lansing is packed with tons of events this month! Check out all of these fall festivities that are fun for the whole family.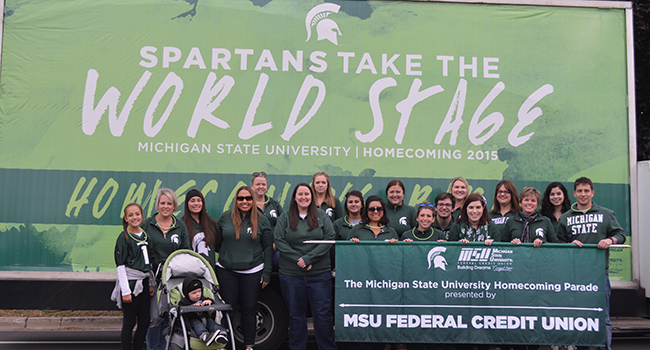 October 1 | Teddy Bear Picnic (Sponsored by MSUFCU)
MSUFCU and the Network for Healthy Kids (NHK) are working together to promote healthy lifestyles for children at the annual Teddy Bear Picnic on MSU's campus. This event is free and open to the public with various family-friendly activities such as face painting, music, arts and crafts, and raffle prizes. Additionally, we encourage youth to bring their favorite stuffed animals to the Teddy Bear Hospital and if they have injuries, trained teddy bear doctors will be there to make repairs.

October 2 | Dinosaur Dash (Sponsored by MSUFCU)
Join MSUFCU for the 31st Annual Dinosaur Dash at the Michigan State University Museum on MSU's campus! Participants can run or walk in the 5k race, kids 12 years and under can run or walk the Museum Mile, kids six years and under can run the Mini-Dash—a 200 yard run, and kids three years and under can partake in the Diaper Dash—a 100 yard run. Medals will be awarded to all Museum Mile and Mini-Dash participants.

October 7 | BWL Chili Cook-off (Sponsored by MSUFCU)
Don't miss the 21st annual BWL Chili Cook-off filled with dozens of vendors offering a variety of chili recipes. With the event taking place in the fall this year at Adado Riverfront Park, there will be a football theme and various activities including live music, a merchandise tent, and a chilidog-eating contest. If you want to get a head start on taste testing delicious chili, consider buying Chili Fast Pass to get into the park 30 minutes early!
October 7-8 | MSU Head of the Grand Regatta (Sponsored by MSUFCU)
Watch the MSU Crew team's only home competition of the fall racing season at the Head of the Grand Regatta at Grand River Park in Lansing. Hosted by the MSU Crew Club and MSU Women's Rowing, this exciting two-day event will feature junior, open, masters, and collegiate races.
October 9 | National Fossil Day (Sponsored by MSUFCU)
Celebrate Michigan's geologic history and learn all about fossils at National Fossil Day at the MSU Museum. This annual event is free, open to the public, and offers fun for the entire family. You can enjoy many activities including Michigan Fossil Dig and Sift, Junior Paleontologist Hunt, fossil molds, face painting, "Hall of Evolution" guided tours, "Ask the Expert," a puzzle station, fossil identification competition, and more!
October 10 | Blue Mondays (Sponsored by MSUFCU)
Do you enjoy live musical performances? If so, you won't want to miss the Blue Mondays series 2016-2017 kick-off at MSUFCU Headquarters as we welcome jazz guitarist, Russell Malone. Malone is known for his versatility, often mixing elements of gospel and blues. Blue Mondays is a jazz concert series that brings world-renowned jazz musicians to MSUFCU Headquarters throughout the year.
October 11 | 2016 Pink Dessert Wars (Sponsored by MSUFCU)
Everyone loves dessert, right? Then you won't want to miss the third annual battle of the batter! Sample various desserts made by local bakeries, caterers, pastry shops, and restaurants at the Radisson Hotel in downtown Lansing. Participants will compete for prizes and awards based on their desserts, table decorations, and use of Michigan-made food products given by distinguished judges. Attendees will also be able to participate in the People's Choice Award by voting for their favorite dessert! A portion of the ticket proceeds benefits Susan G. Komen Mid-Michigan.
October 14 | MSU Homecoming Parade (Sponsored by MSUFCU)
Join thousands of MSU students, alumni, friends, and even future Spartans on MSU's campus for the "Spartans for Life" Homecoming Parade. Beginning at the Hannah Community Center and concluding at the corner of Farm Lane and Shaw Lane, the parade will be filled with a variety of floats representing the MSU and East Lansing community. You can see MSUFCU employees leading the parade, catch candy from parade walkers passing by, as well as watch the Spartan Marching Band, MSU Cheerleaders, and Dance Team!
October 15, 16, 22, and 23 | Boo at the Zoo
The Potter Park Zoo is hosting four days for "spooktacular" fun for the whole family. Visitors can enjoy a straw maze, candy stations, and various activities throughout the zoo. Additional tickets may be purchased for a trip through the Boo Tunnel, hayride, cider and doughnuts, Dunk the Witch, Wheel of Fortune, and the Black-Light Room. Don't forget to wear your costumes!
October 23 | Cosmic Pumpkin
Enjoy an afternoon of fall family fun at Zoobie's Old Town Tavern on the Cosmos patio! There will be live music, kids' games, pumpkin painting, and a special fall-themed "Trust Us" pizza.
October 26 | Halloween at Eastwood Towne Center (Sponsored by MSUFCU)
Trick-or-treat at the Eastwood Towne Center stores and restaurants for some haunting treats and giveaways. Johnathan Rand, author of the popular Michigan Chillers and American Chillers horror series will be at the event signing and selling his books! While you're there, you can also enjoy face painting, cider and donuts, and a free gift from MSUFCU.
October 30 | Spartan Spectacular (Sponsored by MSUFCU)
Experience a wide range of exciting and dynamic musical performances at MSU's Green and White tradition of Spartan Spectacular. Featuring a surround-sound performance by the Spartan Marching Band, its colorguard and drumline, and additional performances by the MSU Wind Symphony, Jazz Octet I, and other top ensembles from the College of Music, this concert will bring tons of fun and excitement for the whole family!
October 31 | Halloween
Whether you're handing out candy, knocking on doors for tricks or treats, or celebrating at a party or special event, have a fun and safe Halloween! If you're trick-or-treating, remember to check out your city's rules to ensure you're out at the appropriate times and neighborhoods.
Tags: Community
---