5 Things to Do Before Buying a Car
October 20, 2016
Chelsea W., Financial Expert
Last week, Adrienne shared pros and cons of leasing and buying a vehicle. Whether you're buying or leasing, it's a good idea to think about these five things before you sign a lease or finance contract at the dealership!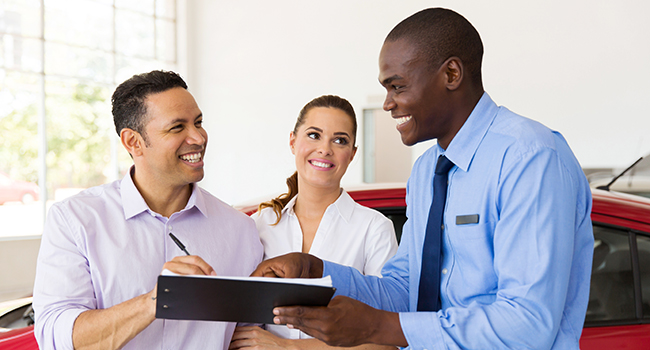 1. Know your budget.
What are you comfortable spending per month? Your payment is a combination of rate (the price you pay for your loan) and term (how long you finance your car). A longer term may lower your monthly payment, but you could end up paying more in interest throughout the life of your loan. It may be a good idea to choose the shortest term to fit your budget.
To help you determine your monthly payments for an auto loan, use this calculator. Just plug in the vehicle's amount, length of the term you'd like to finance or lease, and the interest rate to receive an estimated monthly payment. Don't forget to factor in a potential increase in your insurance rate with a new vehicle, as well.
2. Understand Your Credit Score
If you are unsure of your credit score, you may not be getting the best offer from the dealer. Knowledge is negotiating power. If you know the rate you'll receive based on your credit score, you'll be in more control of the financing deals you can receive at the car dealership or at another financial institution. If you have a loan or checking account at MSUFCU, you can see your FICO® Score for free in ComputerLine and the mobile app.
3. Get preapproved before you shop.
Dealers make profit based on financing cars, so you may not be getting the best rate on your loan at the dealership. Contact your financial institution to learn exactly what rate you qualify for based on your credit score and desire term length. Here, at MSUFCU, preapprovals come with a ReadyLoan Check, which is a blank check, valid for six months, that you fill out and give to the dealership or seller when you're ready to buy your new vehicle.
4. Consider what car is right for you.
Are you just graduating college, or planning for kids in the future? A convertible may not be the best fit for a new family, and a large SUV could be too large for a single person. A long commute could require a vehicle with good gas mileage. Make a checklist of items that are important to you and what type of driving you expect to perform to find the best vehicle to fit your needs. You may also want to read consumer reviews for the vehicle you're interested in buying to get previous owners' perspectives on the car.
Don't forget to contact your insurance agent when you are searching for a car. They might be able to provide you with a quote for each vehicle that you're considering to buy or lease so you're prepared for any changes in your insurance fees.
5. Enjoy the ride.
Car buying can be overwhelming, but don't forget to be excited about your new car. Get the most of your test drive to make sure you feel happy with your purchasing decision. If you need any help in your car-buying process, feel free to contact us.
Tags: Buying a Car, Borrowing Money
---