2016 Year in Review
December 15, 2016
Adrienne H., Financial Expert
This year was full of many exciting product and service enhancements at MSUFCU! Let's take a look at our 2016 year in review to see some of the highlights.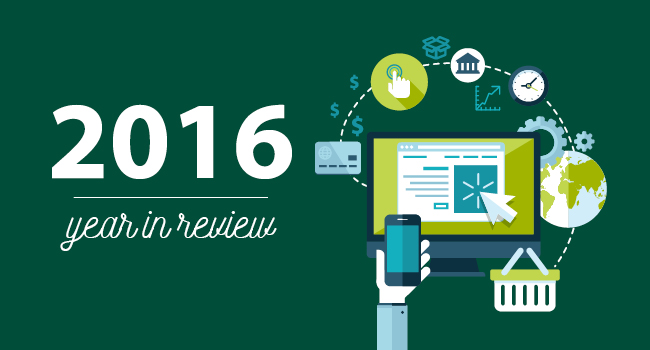 Android & Samsung Pay | Launched on March 23
These mobile payment and digital wallet options provide convenience, security, and flexibility to those with Samsung and Android devices. Similar to Apple Pay services that we began offering in 2015, members are able to make purchases by adding their credit and debit cards to their digital wallets and wave their phones over merchants' contactless card readers to finalize transactions.
CBCCU Merger | Announced on March 25
By merging with former Clarkston Brandon Community Credit Union (CBCCU), we gained the opportunity to provide enhanced financial services, thousands of ATMs through the CO-OP ATM network, and innovative technological products to a community-focused credit union and its. Additionally, we are now able to better serve our 34,000 existing members living in the counties served by the CBCCU branches.
This opportunity also allowed us to open our field of membership to 2.8 million potential members who live, work, worship, or go to school in the counties of Oakland, Genesee, Lapeer, Livingston or Macomb. We are excited to serve the former CBCCU members and fulfill the credit union philosophy of "people helping people."
MSUFCU Website Redesign | Launched on April 14
We released the first of many enhancements to our public website redesign. The site's homepage provides a fresh new look and intuitive functionality to our members and site visitors. The new design is intended to be easier to navigate and more user-friendly than the previous website design. Check it out here!
eAlert Push Notifications for Mobile App | Launched on April 19
As an update to our mobile banking app, we created eAlert push notifications to offer a cost-saving opportunity for our members and organization, as they do not count against members' text limits. They also increase ease of account access: members may open push notifications from the home or lock screen of their mobile devices and be directed to a notification history within the mobile app without logging into their accounts. Through this enhancement, members also have more customized options when setting up their eAlert push notifications.

Financial Innovation & Education Center | Grand Opening on April 26
The Financial Innovation and Education Center (FIEC) opened this past Spring to welcome its first group of 25 interns. Conveniently located across from MSU's campus, the FIEC is a place designed for college students to explore a wide range of professional opportunities to find their career fit. The FIEC provides workspaces for interns and full-time employees who represent the Credit Union's Member Relations and Financial Education departments.
By opening the FIEC, we are also able to expand our financial education presence on and off campus. Employees who work at the FIEC manage our Financial 4.0 website and app for college-age students and the Financial Peer Education Program. Financial 4.0, a program re-launched in 2015, houses blogs featuring financial topics, financial education videos, free financial resources, and contests, providing students with the opportunity to improve their financial literacy.
Remote PIN Reset | Launched on April 28
Providing convenience and additional security benefits, members are able to reset their ATM or EMV debit and credit card PINs remotely. Members with EMV chip cards may reset their PINs through ComputerLine and Voice Response Unit (VRU). This process is simple and intuitive for members wishing to personalize and enhance the security of their cards.
EMV Chip Cards | Started Production on April 29
New MSUFCU debit or credit cards are equipped with the latest fraud-preventing technology — an EMV chip. The chip provides enhanced security by generating a single-use code, making it difficult for someone to gain access to your information. Unique single-use codes make it nearly impossible for your card information to be copied during in-store purchases. As chip technology becomes standard in the United States, you'll see many merchants accepting chip cards.
IOLTA Money Marketing Checking | Launched on May 31
MSUFCU's Interest on Lawyers' Trust Accounts (IOLTA) program allows lawyers to place certain nominal and short-term client funds into a pooled dividend-bearing account. These dividends are remitted by MSUFCU directly to the Michigan State Bar Foundation to support charitable purposes. These funds, allocated by the Michigan State Bar Foundation, help Michigan's legal service providers assist the state's most vulnerable residents with problems such as domestic violence, child support, health care, and other critical needs.
Android Fingerprint Login for Mobile Banking App | Launched on June 16
We increased the convenience and improved the user experience of our mobile app for Androids. If you have an Android device with fingerprint reader technology and the Marshmallow or later operating system, you can utilize the fingerprint reader to sign in to the MSUFCU mobile app instead of entering your username and password each time.
MSUFCU Kids' Day | Held on August 6
We welcomed a record-breaking amount of more than 600 youth and community members to a free superhero-themed Kids' Day event held at our Headquarters. This year, kids and their families were invited to "Be Credit Union Strong" by participating in fun and financial education activities.
New Branches in Clarkston and Ortonville | Grand Openings on November 29
We celebrated two grand openings to introduce our new branches located in Clarkston and Ortonville, Michigan. We were able to welcome these two additional locations as a result of our merger with former CBCCU that we announced in March 2016. The previously existing CBCCU accounts were successfully converted to MSUFCU accounts in October 2016. We are proud to have the opportunity to expand our reach to members and future members in the Metro Detroit area.
Looking Forward to 2017 | We Will:
Open the second building on our headquarters campus
Renovate a few of our Greater Lansing branches
Launch new products and services to increase convenience and security for our members
Celebrate 80 years of building dreams together and more!
2016 was a great year at the Credit Union. We are excited to see what 2017 will bring!
Tags: CU News
---