Fun Things to Do in Lansing in February
February 1, 2017
Adrienne H., Financial Expert
February may be the shortest month of the year, but there's a lot going on in Lansing this month! Make the most out of the next 28 days by attending these local events.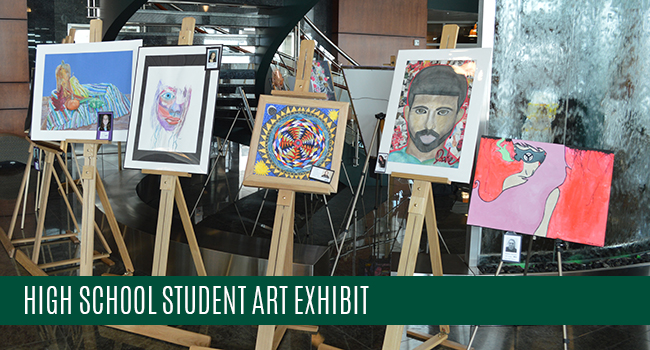 January 26 – February 23 | MSUFCU Student Art Exhibit
Come visit us at our Headquarters location in East Lansing during our annual Student Art Exhibit. We are showcasing art created by high school students representing 19 local high schools. The exhibit is free to view and open to the public during branch hours. Don't forget to vote for your favorites! You can also view the art and vote online at www.msufcuart.com.
MSUFCU Nights
Enjoy MSUFCU Nights at MSU Men's Hockey and MSU Women's Basketball games this month. Show proof of MSUFCU membership at the ticket office to receive two FREE tickets to the games. Or, reserve and print your free tickets by clicking here. Just use promo code: MSUFCU_MSU. Don't forget to visit the MSUFCU table to pick up your FREE "green & white" gift. It's time to show your Spartan Spirit and cheer on the men's hockey and women's basketball teams!
February 3 | MSU Men's Hockey vs. Wisconsin
February 22 | MSU Women's Basketball vs. Penn State
February 24 | MSU Men's Hockey vs. New Hampshire
February 3 | Mid-Michigan Women's Expo
Head to the Lansing Center for the "Winter Break for Women" — recognized as the largest single consumer event for women in the region. Featuring more than 275 exhibits and seminars, the expo provides a variety of products and services from health and wellness, beauty and fashion, to home, travel, and finance. This event offers shopping, fun, and a paint class that takes place every hour. Don't forget to stop by the MSUFCU table for a FREE gift!
February 9 | Old Town Lansing Chocolate Walk
Indulge in gourmet chocolate as you walk around Old Town's shops and restaurants. You can stop by more than 20 participating locations for chocolates, and visit the warming station for hot chocolate at the Old Town Marquee. Plus, for each ticket purchased, you will receive a two-pound box to fill with chocolate throughout the event!
February 11 | 517 Living Community Night
For the first time, 517Living is hosting a FREE Community Night filled with games and activities at Henry's Place Neighborhood Gastro Sports Bar. There will be delicious food, great prizes, live music, and more!
February 11 | Greater Lansing Chinese New Year Celebration
Come celebrate the Chinese New Year with a fun and free celebration at the Meridian Mall. There will be a Lion and Dragon parade throughout the mall, various performances including singing, dancing, and Tai Chi, as well as carnival games for children. There will also be many cultural activities including brush painting, calligraphy, and more!
February 11-12 | LEGO®Palooza at Impression 5 (Sponsored by MSUFCU)
It's time to have fun and get creative at the annual LEGO®Palooza fundraising event at the Impression 5 Science Center! There will be a variety of LEGO-theme activities including a 3D LEGO wall, a free-build area, a challenge to build the fastest car, and much more.
February 14 | Daddy Daughter and Mother Son Winter Wonderland Dances
Celebrate Valentine's Day with your little loved ones. Take your son, daughter, niece, nephew, or any child who is special to you to dance the night away at the Lansing Center.
February 18 | Moonlight Skiing and Snowshoeing
See the snow glisten in the winter moonlight as you cross country ski or snowshoe through the trails at Harris Nature Center. You can choose to rent equipment there or bring your own!
February 23-25 | Fun on the Rocks Winterfest
This festival, held at The Opera House, is offering a variety of fun events! From cardboard sled racing, wine and chocolate tasting, a chili cook-off, to live entertainment and a singing competition, there will be something for everyone to enjoy at this event!
February 26 | MSU Museum Chocolate Party Benefit
Help support the MSU Museum at its 28th annual Chocolate Party Benefit. This year, you can watch culinary competitors challenge each other to create the best chocolate masterpieces inspired by the movie, The Secret Life of Pets. You will also be able to sample chocolate confections, vote for your favorite edible creation, and explore the museum exhibits.
Tags: Community
---