5 Tips for Frugal Holiday Cheer (Free Download)
October 29, 2015
Eileen L., Financial Expert
If you're exchanging gifts this season, it's never too early to start planning your shopping list. I know some people who plan their gifts so far in advance that they are done shopping in July! I'm not that organized, so I usually start planning right around Halloween. If I don't plan out my gifts, I end up spending way too much money on just a few things. This year, I'm using these 5 tips (and this downloadable budget planner (PDF 454 KB)) to stretch my budget.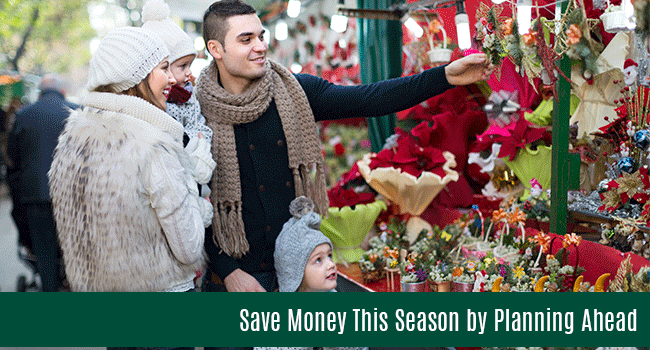 1. Save Throughout the Year
This takes some planning, but every year in October, I start a 1-Year Add-On Certificate. Then, I set up an automatic deposit every paycheck. Just a few dollars every two weeks really adds up by the next holiday season. This way, I don't have to dip into my other savings or pay off my holiday shopping in the new year. Setting aside just $20 a paycheck will give you over $500 to spend on the holidays!
2. Use Your Rewards Card
The holidays are a great time to use a rewards credit card. You will probably be spending more than usual, so your rewards will add up fast. This is even better if you have a holiday savings fund. Then, you can put all your purchases on your rewards card and pay the balance off right away. You get your rewards and you avoid any finance charges! Just make sure you're tracking your spending so you don't go over your budget.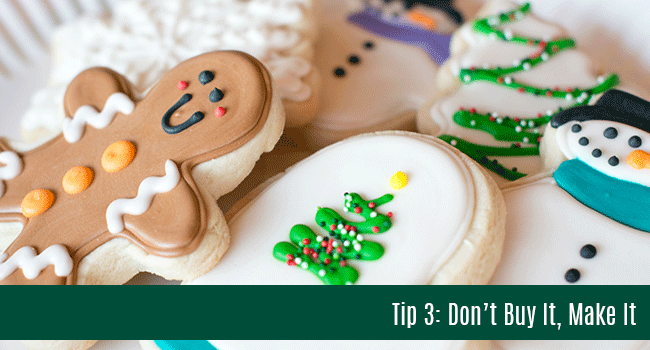 3. Don't Buy It, Make It
This tip saves me the most money. Ever since I was a college student, I've been giving food and other homemade items as gifts. People love receiving handmade gifts like cookies, candy, or jam. It shows you care, but it's often much cheaper than buying something from a store. Plus, you can make a huge batch of cookies or jam and then package it up for lots of people.
If you're great at crafts, make homemade cards to go with your treat. You can make them on your computer and print them yourself, or use materials you have around the house.
4. Organize a Secret Santa Gift Exchange
Buying gifts for all your friends and your whole family can be way too expensive. Instead, suggest a Secret Santa exchange. Everyone draws someone else's name out of a hat. Then, you only have to buy one gift for a friend or family member. You can even set a maximum budget for the gifts. Get together to open the presents at a holiday party. Make it a guessing game by only putting the recipient's name on the present. Everyone has to guess who brought them their gift.
Remember that the holidays are expensive for almost everyone. Suggesting a drawing will also take pressure off your friends and family (not just you).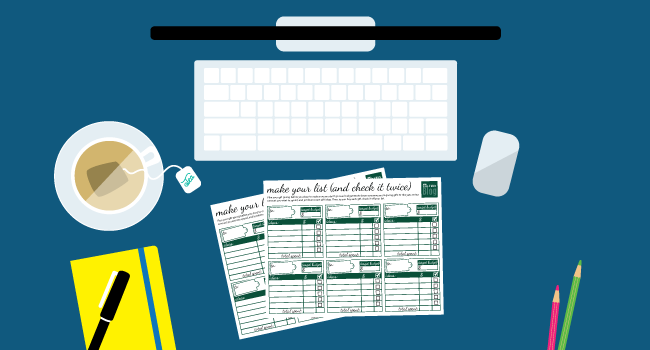 5. Make a List and Check It Twice
This is my top tip! Combined with all the other tips, making a detailed gift shopping list will make you a holiday shopping champion. I first look at the amount that I've saved (tip 1) and decide how much I want to spend on all my gifts. Then, I write down everyone I need to give gifts to. If you have cut down your gift-giving with a Secret Santa exchange (tip 4), your list might be shorter than usual.
Once I know how many people I have to buy for, I divide up my overall budget and set a budget for each person. I spend a lot more money on my sister than on other relatives. Maybe you spend the most money on your partner or kids. Setting my budget first helps me think creatively about what to buy each person to get the most bang for my buck.
If I'm making homemade gifts, I write those down on each person's gift list first (tip 3). Sometimes, that's the only gift I'll get someone. Money, saved. Then I fill in other ideas. After all that's done, I'm finally ready to hit the shops (and get my credit card rewards).
It might sound like a lot, but don't worry, I've got a shortcut! Download our Holiday Shopping Worksheet to get a jumpstart on your list.
Bonus Tip: Put Yourself on Your List
The holidays are a lot of work! Take a break by including yourself in your gift-giving. Is there something you've been wanting or could you use a massage? Put it in your budget! You've worked hard all year, planned ahead for the holidays, made a great gift list, and conquered the store: you deserve something just for you. Even something small while you're out shopping can help make your day brighter.
I hope these holiday tips and printable gift worksheet help you stay on track this holiday season! Let us know on Facebook and Twitter (or in a comment) how you're saving money this holiday season.
Tags: Budgeting, Savings, Tips and Tricks
---