Don't Let Fraudsters Trick You This Halloween
October 19, 2017
Adrienne H., Financial Expert
As technology advances, fraudsters get trickier and spookier. Now, more than ever, it is important to protect yourself against identity theft. Fraudsters use various techniques to disguise themselves, steal identities, and trick you into believing they are something or someone they're not. Do you know how to recognize their tricks and protect yourself from fraud? Take a look at these security tips to keep your identity safe and protected.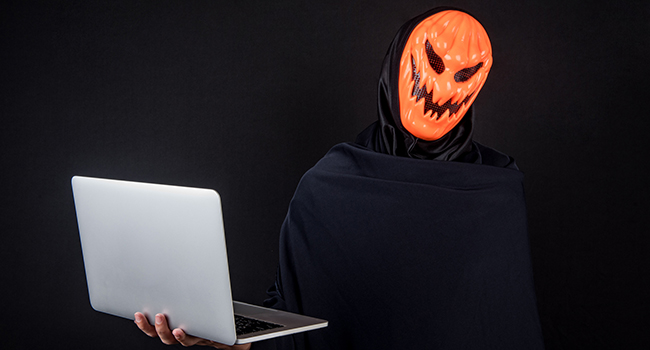 Create a secure password.
It is crucial to have a unique password in today's digital age, so fraudsters aren't able to hack or guess your account information. Often times, if a hacker is able to obtain one of your passwords, they can begin accessing more than just one of your accounts, including financial accounts, credit reports, and more. A strong password is key for protecting your identity online. Use these methods to create strong and unique passwords:
Use passwords that are at least 12 characters long. Using a sentence or phrase is even better.
Avoid using similar words in your username, or names and places that relate to you.
Mix up your passwords and login information for different sites.
Use a variety of characters, including various capitalization, numbers, punctuation, and symbols.
Be aware of phishing.
Fraudulent emails, known as phishing scams, are sent by scammers who pose as trusted organizations or people to obtain your personal information. Phishing attempts happen every day and many fraudsters are getting better and better at masking their scams. Detect fraudulent emails by looking for the following common signs:
An urgent or threatening tone in the language of the email, may contain threats to close or freeze your account if you do not comply with the email's requests.
Unusual wordings or misspellings.
Requests for personal information such as account numbers, card numbers, user names, and passwords. MSUFCU will never request personal or financial information via email.
False links to non-secure websites. Hover over links to make sure they're directing you to the correct place.

Bonus Phishing Tip: do not open any attachments or click on links if an email looks suspicious. Additionally, do not forward the email to anyone.
Monitor your credit and set up fraud alerts.
Visit annualcreditreport.com to review your credit report at least once a year to monitor your accounts. You can receive your credit report once for each of the three credit bureaus per year. If you are afraid your identity has been stolen, you can set up fraud alerts through the three credit bureaus (Equifax, Experian, and TransUnion). The alert informs lenders that you may have been the victim of fraud and you should be notified before any new loan is opened in your name.
Store sensitive information in a secure location.
Physical identification like your Social Security card, financial documents, drivers license, and credit cards can provide a lot of information about you. Keep these items in a safe and secure location to ensure these items won't be stolen. Shred any personal or financial information before discarding, as many fraudsters may search through dumpsters to obtain sensitive information. Also, remember to never write down your passwords and ATM Personal Identification Number (PIN) or share them with anyone.
Unfortunately, identity theft happens. If you become a victim of identity theft, report it right away. To learn more ways to protect yourself from fraud or are concerned about recent scams, visit our
Security Center.
Tags: Security, Tips and Tricks, Learn About Credit
---