Nine Ways to Host a Fabulous Holiday Dinner on a Budget
November 15, 2018

Celebrating the holidays doesn't have to put a dent in your budget. You can host a great gathering by taking some simple steps to reduce costs before this year's big dinner. Consider these nine ways to save some green this season.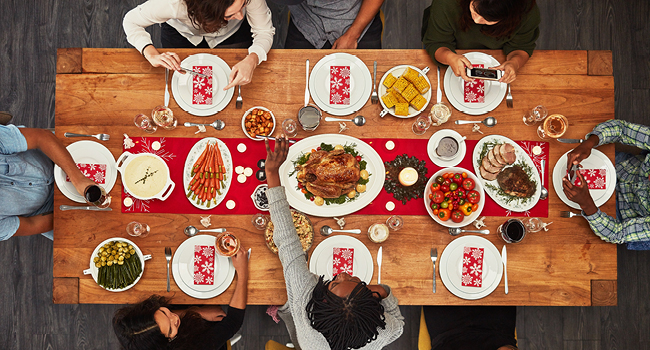 Plan Early
Set your menu as soon as possible to get an early start on saving. Not only will you catch early specials at the grocery store, you also will avoid the last-minute scramble and possibly end up spend more.
Use Coupons
When you plan early, you can take advantage of coupons and special offers. Stores are vying for your business, and often offer great deals.
Keep It Simple
Using recipes calling for items you already have, you can save money and make it easier to prepare your dishes. For example, instead of a 10-ingredient salad, make a fresh salad with a simple dressing of minced garlic, Dijon mustard, lemon juice, and olive oil, and savor the full flavor!
Bulk Up
Plan your next Costco and Sam's Club trips to stock up on high-quality ingredients such as organic greens, olive oil, milk, and butter in bulk. Also look for bulk-quantities of meat and dairy you may use more of during the holidays.
Veg Out
You don't have to be a strict vegetarian to enjoy some great fall vegetables. They will add to your overall dinner and could start a new tradition of saving some money. Consider purchasing a small turkey and adding more seasonal veggies to your menu.
Change Up the Turkey
If you want to include a meat dish as part of your holiday dinner tradition, consider more economical alternatives such as ham, turkey breast or roasted chicken. Especially for smaller gatherings, using one of these options could reduce the cost of what you would pay for a larger turkey.
Share the Love
Asking guests to bring a side dish or dessert representing their own family traditions can help them to feel more a part of the meal. A bounty of your guests' favorite recipes brings extra warmth to the table.
Assign The Wine
Same goes with asking guests to bring a bottle of wine, or their preferred beverages. Suggest a festive punch, or hot spiced cider as possibilities.
Mull Over Leftovers
Think about the leftovers (and savings) you will enjoy as you stretch your holiday dinner beyond the big meal. Offer to share leftovers with your guests, too!
While this time of year is a time to look forward to for many of us, the holidays following it can put extra strain on your budget. Many financial institutions offer savings options to help you put a little extra away for these occasions. At MSU Federal Credit Union, we have many savings options where members can set up automatic withdrawals from their checking accounts and then access the funds at the time when they need it. For more information, visit msufcu.org.
Tags: Tips and Tricks, Budgeting
---