5 Ways To Eliminate Travel Fees
February 28, 2019

As the travel industry continues to tack on fees to nickel and dime your every move, we've come up with five fees the jetsetters out there could avoid. While a dollar or two here and there may not seem like a big deal, the charges add up overtime. Spring Break is just around the corner, so take a look at these tips to eliminate travel fees.
1. Pack in a carry-on suitcase and backpack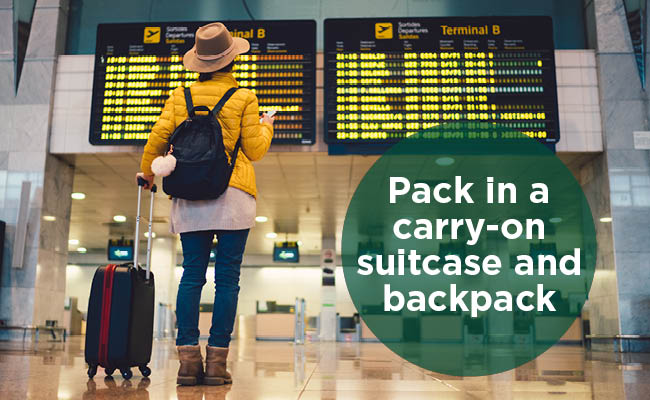 Avoid checked baggage fees by packing light. Most airlines allow passengers to bring one carry-on bag along with a personal item for no additional cost. As checked baggage fees are charged for each one-way flight, try your best to consolidate your must-have luggage items. If you need additional space, try leaving your toiletries at home and purchase them when you get to your destination — you also won't have to worry about going through security with liquids.
Additionally, carry-on luggage gives you more control of your belongings. Airlines are not always dependable for getting your checked baggage at your destination on time. As airlines may be delayed or cancelled, luggage may be lost. Don't worry about losing your luggage and having to buy a whole new wardrobe for your adventure by keeping your luggage on the flight with you.
If you must check a bag, be sure to weigh your baggage before you arrive at the airport to avoid the overweight baggage fee. You can do this by using an at-home scale. Weigh yourself first, then stop on the scale again as you hold your luggage. Calculate the weight difference to figure out how much your checked bag weigh.
2. Bring a reusable water bottle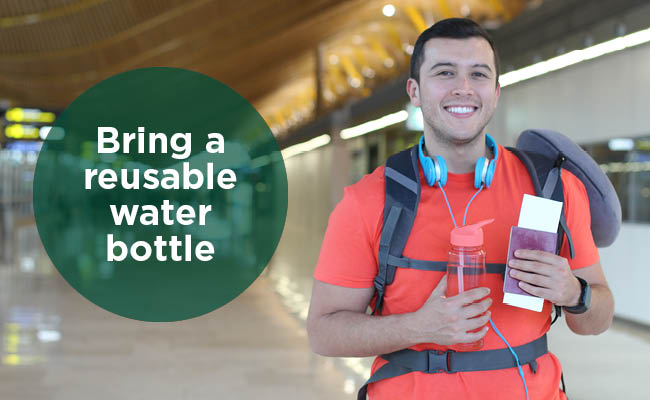 While you may be confused about this tip as you aren't allowed to bring any liquids through security, think again. Reusable water bottles are allowed through security if they're empty! Simply pack your own water bottle, make sure it's empty before going through security, and then fill it up once you arrive in the terminal at a water fountain or even ask a restaurant or café to fill it up for you. This will help you avoid paying for water and you'll help reduce plastic waste in our environment — it's a win-win!
3. Pack your own food and snacks


Have you noticed that once you get through security everything in the airport is much more expensive than your local grocery store or restaurants? Similar to the reusable water bottle tip, packing your own food to eat at the airport can save you money. It's a good idea to pack a few energy bars or nonperishable snacks that you can have with you throughout your travels.
4. Exchange currency before you travel abroad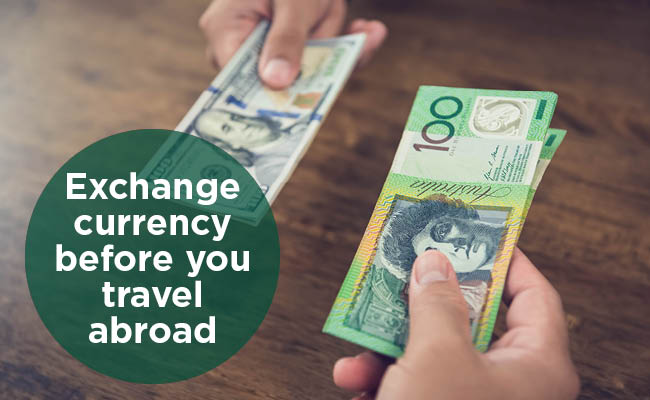 If you're traveling internationally, have international currency on hand before you arrive at your destination. Most currency exchange counters at airports and travel centers will charge a percentage of the total amount exchanged as a convenience fee — sometimes as high as 30% of the conversion. In some cases, you may be charged two fees at currency counters: a flat rate service fee on top of percentage of the converted funds. At MSUFCU, you can order foreign currency before you travel for a flat $14 fee, no matter how much money you are exchanging.
5. Withdrawal cash before your travels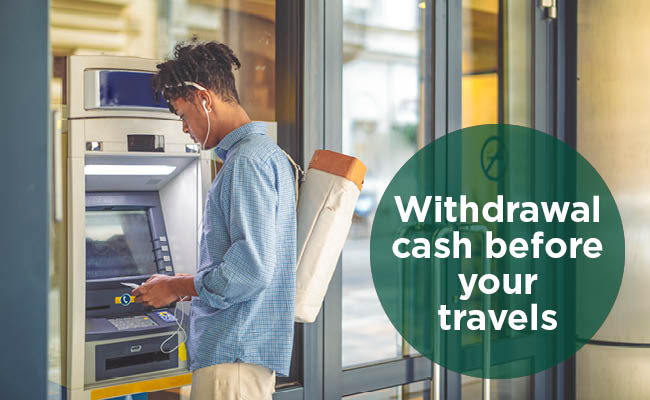 If you're traveling domestically, it's a good idea to get cash from a surcharge-free ATM before you travel. Even if you don't think you'll need cash, you never know if there will be unforeseen expenses that require cash or charge extra for using a credit or debit card. Avoid ATM convenience fees by carrying cash with you on your adventure.
Tags: , Money Management, Tips and Tricks
---