3 Pointers for Ballin' on a Budget
March 21, 2019

Here at MSUFCU, we LOVE March Madness. In fact, each year, hundreds of employees compete in our all-company bracket challenge to celebrate the tournament. Do we even need to mention we have a lot of Spartan fans here?

While only one team can walk away with the championship title, everyone can benefit from applying the traits and behaviors that made it possible for these athletes to make it to the tournament. Trying get rid of debt? Saving up for a rainy-day fund? Here are three takeaways we've learned from March Madness athletes to create a positive financial future for yourself.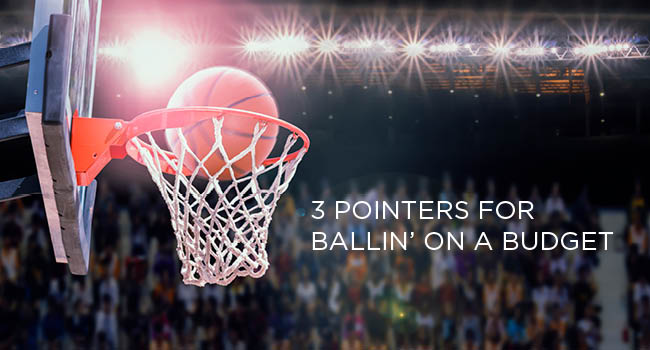 1. Believe in Yourself
The first step to achieving your dreams is believing you can. Do you think 1-seed Virginia lost all winning confidence when they lost to the 16-seed University of Maryland Baltimore in the first round of the 2018 tournament? They're coming back again this year as number 1 seed with extra motivation after last year's upset and a can-do attitude to cut down the nets in April.
Achieving financial goals comes with obstacles along the way like emergency expenses and inflation, so it's important to have a positive attitude to earn your way to the top. With this confidence, you're on the right track to success.
2. Seek Knowledge
Basketball players often study their opponents so they can be as familiar as possible with the other team's tendencies and learn how to best prepare themselves for the game. They also gain advice from their coaches and teammates to learn how to be a better player. We can use these same principles for financial success like recognizing the importance of financial education.
MSUFCU offers free financial education events throughout the year tailored to specific topics, such as buying a home, starting a retirement fund, paying off debt, and much more. It can also be helpful to meet with a financial advisor to answer your financial questions and learn how to better manage your finances.
3. Practice, Practice, Practice
These college teams don't get an automatic spot in the tournament by just showing up to games. They practice nearly every day to overcome obstacles and train to be better players. Although practicing can get repetitive and tedious, discipline is key when working toward a goal. Create a plan to help you stay on track, such as paying your bills on the same day each month or putting the same amount of money in your savings account each week. Making consistent spending and savings habits will help you progress toward your goals.
Remember, you miss 100% of the shots you don't take. Keep practicing, stay positive, and don't sweat the small stuff. Enjoy the madness, and as always, GO GREEN!
Tags: Tips and Tricks, Budgeting, Savings
---