You Have Graduated! Congratulations! What's Next?
May 16, 2019

Graduation is a major turning point in your life. The relationships you build, the skills you acquire, and how much you learn from the mistakes you make will help form the kind of professional you will be and the professional options available to you.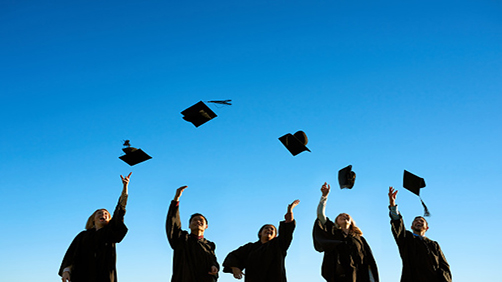 Here are some tips for graduates who are entering their professional life:
1. Cultivate your social skills. Being able to carry on a good conversation is imperative to connecting with people. Be interested in other people and be interesting yourself. Introduce yourself to people you don't know, and learn how to put your best foot forward in conversation.

2. Don't wait for the perfect job. Get a job as close, or as near, as possible to the one you want. A vast majority of life's opportunities come through personal connections, not applying to a job posting you found online. Making connections with people in the industry you want to be in, and keeping up-to-date on that industry will help put you in a good place when a job opportunity becomes available.

3. Develop a healthy lifestyle. When you were in school, your schedule was flexible. In the workplace, it can be incredibly regimented, so creating a routine is important. Find a workout you like and healthy foods you enjoy and make them both part of your routine.
4. Build a cash cushion. Form the habit of putting a percentage of your paycheck in a savings account, even if you have loan debt. This will help you to not have to borrow more money if an emergency comes up.

5. Do your 65-year-old self a favor. Open a 401(k) account, and invest at least enough to take full advantage of your company's matching contribution.

6. Never stop learning. Don't be complacent; keep up on the news and read industry trade publications about your profession. Become aware of what is going on in your industry, and where it is headed. This will also help make you aware of any skills you should hone up on, or take classes to acquire new skills, if necessary.
Graduation brings both excitement and worry. Keep in mind that everyone has a different timeline in life, and you may get that dream job quickly or it may come later in life.
Tags: Savings, Retirement, Tips and Tricks
---