It's Time for the MSUFCU Giving Tree!
December 3, 2015

The Giving Tree displays are up in the branches! Anyone can now go to a branch and pick up a gift tag to help a child in need. This year, we have partnered with Spartan Village Apartments and Child and Family Charities. Through the generosity of our members and employees, almost 200 children in the greater Lansing area will receive holiday gifts. These children might not receive any holiday gifts if not for the Giving Trees.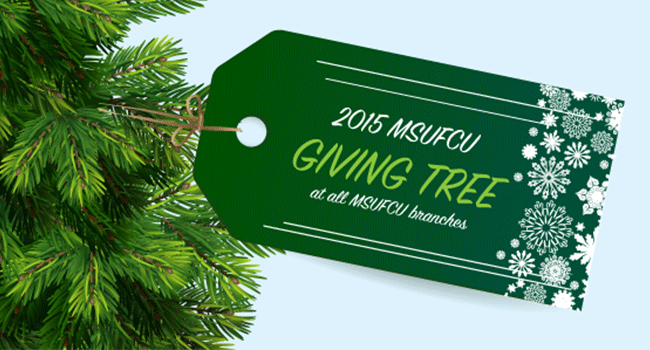 Many children in Spartan Village are from other countries and their parents are studying at MSU. American customs are new to them, and for some, this is their first Christmas! Some kids even asked for Christmas trees. Last year, one parent was very excited her child received new shoes—the first pair of brand new shoes their child has ever had. Many families ask for children's winter clothing, as well.
Child and Family Charities has been helping abused, neglected, and at risk children in the Lansing area for over 100 years. Every year, they provide services to over 6,000 people. A lot of the Giving Tree tags for these youth are for teens. Most of the teens are asking for clothing and makeup, things they can't afford themselves. Spartan hoodies and art supplies are also popular.
How Can I Help?
Go to your MSUFCU branch and choose a gift tag. Then, buy one or more of the presents listed on the tag and bring them back to the branch (unwrapped) by December 7. If you don't have time to buy a gift, you can also donate money at your branch. Help make a child's holiday a great one!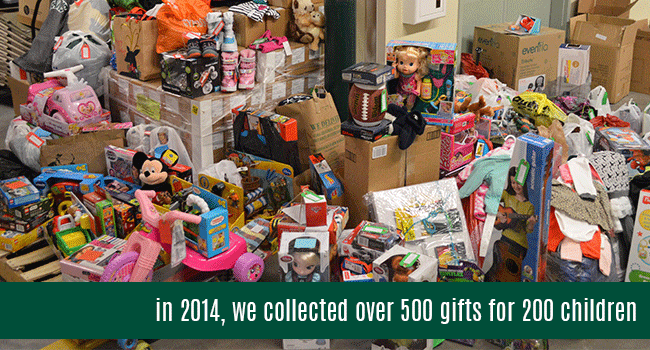 Tags: Community
---