Healthy Eating on a Budget
January 21, 2016
Sarah B, DIY Expert
We're quickly approaching the last week of the first month of 2016! Many of you, like me, are going to try and be a better version of yourself this year and have set some New Year's resolutions. A common resolution is to eat healthier and save money while doing so. To help you stay successful, here's a couple of tips I use to help me eat better on a budget.
Buy In-Season Produce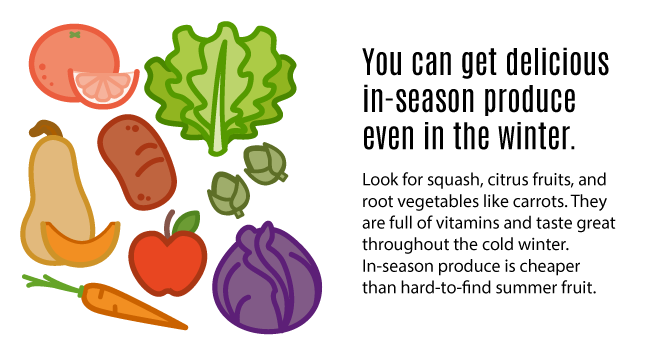 Even though it may not seem like it, there are many in-season options for fruit and veggies during the winter months. Some of these include: Brussels sprouts, squash, clementines, grapefruit, kale, oranges, and sweet potatoes. When fruits and vegetables are "in-season," there is a surplus of product, which drives the price down.
Buy in Bulk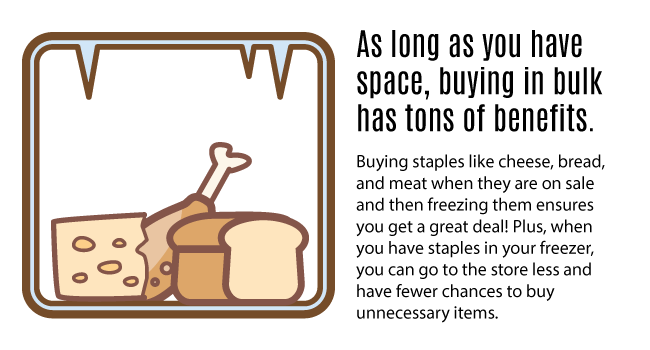 Not everyone has the space to buy in bulk! But, if you have the space, buying in bulk when the prices are right and freezing can save you money. For example: in our house, we bought a ¼ of a cow and that is all of our beef for a whole year! We paid $4.99 per pound, and purchased 75 lbs. While $4.99 a pound is steep for burger, we also get our roasts, steaks, and other beef cuts at this price. Plus, it's all grass-fed, free range beef. If your family eats a lot of beef, you might want to check with your local farmers to see if they sell meat in bulk.
Plan Ahead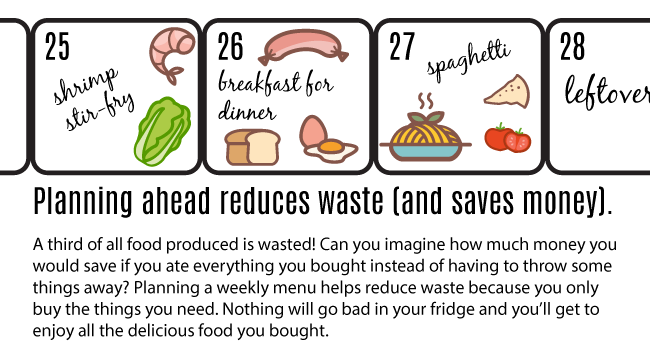 Waste is the number one expense when it comes to purchasing your own food. In fact, over 1/3 of all food is thrown away! For Americans, that's up to 20 pounds of food per person per month. Minimizing waste will maximize your budget. Make sure you use everything you by creating a weekly meal plan and sticking to your grocery list. Plus, planning ahead will allow you to check out the sales and clip coupons too.
Pick the Right Time and Place to Go Shopping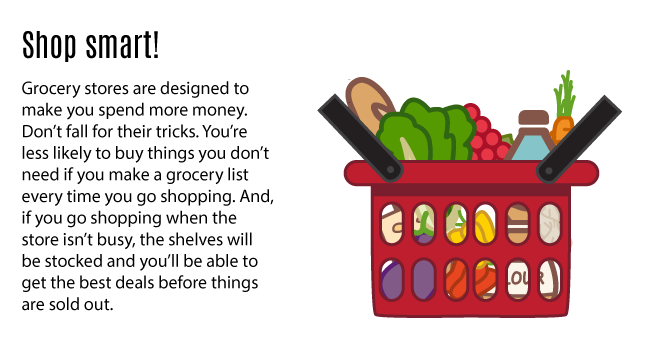 The best time to go shopping is when it's not busy and you're not hungry. This will give you a better selection and a non-stressful shopping environment. The less stressed and hungry you are, the better choices you will make when it comes to purchasing groceries for the week.
Depending on where you live, you might be able to get fresh produce cheaper at farmer's markets or farm stands. In the fall in Michigan, we can get apples cheaper from the orchards than we can at the store, especially if you pick them yourself.
Make Your Own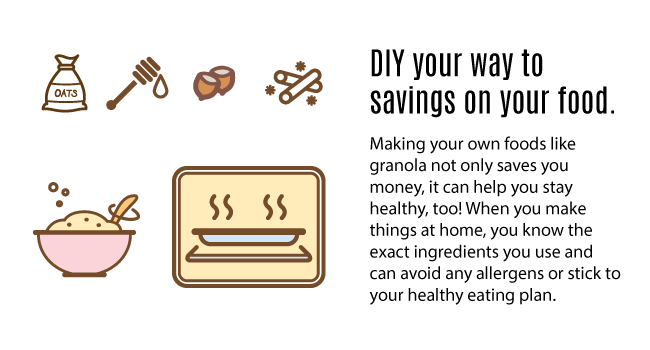 Like everything DIY it's often much cheaper to do things yourself. This is true when it comes to the food you eat and buy. For example, I purchased a bag of granola the other day for $3.49 that contained less than 3 cups of granola. Instead, I could have purchased oatmeal and other granola ingredients on sale and made my own. When you shop the deals, you could be able to make to make twice the amount for the same price. It will save you money and ensure that what you are putting in your mouth is quality food!
Do you have any more tips for how you save money on your groceries? Let us know!
Tags: Budgeting, Tips and Tricks
---