King-Sized Halloween on a Fun-Sized Budget
October 8, 2015
Sarah B, DIY Expert
Halloween is right around the corner! Have you been thinking about costumes and candy? The National Retail Federation (NRF) estimates that over 157 million Americans will take part in Halloween this year and will spend $6.9 billion dollars. That's an average cost of $74.34 per person. At MSUFCU, we believe you can do Halloween a lot cheaper than $75 a person! Below are some ways we are saving this season.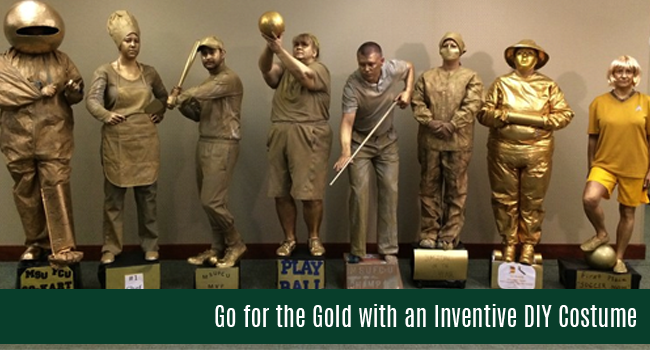 Costumes
Working at MSUFCU, I get to work with 650 of my friends. This year, a couple of us connected and switched costumes. Organize a costume swap in your workplace or within your family or among your friends. If you can't organize a swap, check out Facebook garage sale pages. Many are private and you will need to send a request to join. Once you join, however, there are many costumes that have only been worn once for $5-$15.
If you're already thinking ahead to next year, you can buy your costumes a year in advance at deep discounts. Lots of stores drop prices on Halloween items anywhere from 50-75% on November 1st.
Candy
It pays to procrastinate when it comes to Halloween candy. Who knew? Everyone knows that big stores discount Halloween after the holiday, but some start on Halloween or even a couple of days before.
If waiting until the last minute is not an option, try buying in bulk online or at a wholesale warehouse store.

Decorations
When shopping for pumpkins, take a drive to the country. Many farmers sell pumpkins for $1-$5, unlike popular cider mills or stores which sell pumpkins for up to $5 a pound! Once you've found the perfect pumpkins, help them them last all month. Make a simple solution of 1 oz. bleach and 10 oz. water. Spray your pumpkins every couple of days. This kills bacteria that makes the pumpkins decompose, making them last longer.
DIY is big for Halloween. Check out the local How-To Halloween website for inspiration. It features many how-to projects tested by families right here in Lansing. Pinterest is also a great resource.
Halloween at MSUFCU
Get more than one use out of your Halloween costume and come visit MSUFCU at a community Halloween event. This year we will be a part of Trick-or-Treat on the Square, Halloween at Eastwood Towne Center, and the Sharp Park Pumpkin Trick or Treat Trail. Have a safe and happy Halloween!
Tags: Community, Tips and Tricks, Budgeting
---