Spring Cleaning Can Save (or Even Make) You Money
March 24, 2016
Eileen L., Financial Expert
Spring is my favorite time to clean out my home! I'm not alone: spring cleaning is extremely popular, especially after Michigan winters. The stores are filled with fun new organizational items and every magazine and website is telling you their perfect way to spring clean your life. Before you go out and spend a lot of money on new containers and cleaning products, consider these ways spring cleaning can actually save (or make) you money.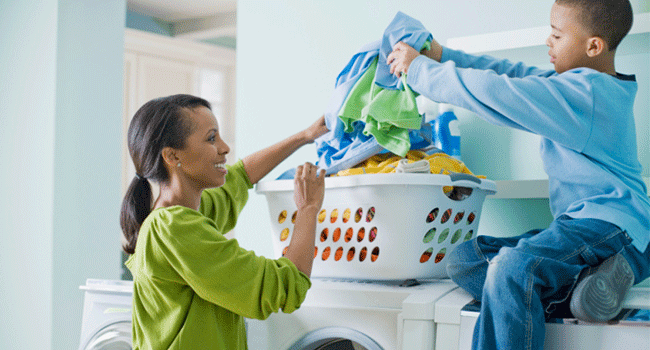 Cleaning Can Reduce Your Energy Costs
Even though it's not a very exciting task, cleaning out your appliances and home heating and cooling system can save you money on your energy bills.
Check Your Refrigerator
Is your fridge or freezer covered in ice? If frost builds up, it causes your refrigerator to work harder and be less energy efficient. You can also clean off the refrigerator coils to save a little bit of energy each month. Although this won't save you a ton of money (a few dollars here and there), keeping your refrigerator working at maximum efficiency can also help it last longer, saving you from having to buy a new one.
Clean Out Your Dryer
It's important to remove any lint buildup each time you use your dryer. But, lint can get caught in other places and decrease your dryer's efficiency. Use your vacuum's nozzle attachment to get any lint that has collected below the lint screen. In addition, make sure nothing is blocking your dryer vent. Having a blocked dryer vent not only makes your dryer use more energy, it also can be a fire hazard.

Check Your Air Conditioning
Making sure the air filter is clean can lower your air conditioner's energy usage by up to 15%! There are different types of filters, but the HEPA-style ones can be cleaned and don't have to be replaced just because they are dirty.

Cleaning with Simple Products Is Cheap
Before you go to the store to buy expensive cleaning products, look into making your own! Did you know you can make a lot of effective cleaning products just by using common—and cheap—household items like vinegar, baking soda, ammonia, and rubbing alcohol?
For example, vinegar is a deodorizer. You can use it to eliminate odors in your bathroom and kitchen by wiping down your countertops, vanity, and shower walls with a mixture of water and vinegar.
There are tons of tips and recipes online to make your own cleaners. Whatever recipes you use, though, make sure you don't mix bleach and ammonia! That combination creates toxic fumes that are no good for spring cleaning.
You Never Know What You Might Find
I love organization bins, but I don't want to spend money on them! So this year I'm going to work on recycling more things I find. I have a lot of boxes in lots of sizes, and a little paint can turn them into cute storage containers. Pinterest is full of ideas about recycling and reusing things you already have. You'll save money and have customized storage. Plus, fewer things end up in landfills.
Selling What You Find
If you're like me, you always find things you don't use anymore during spring cleaning. If you have appliances or clothes in good condition, you can sell them and make some extra cash. Sites like Craigslist or eBay are good options, but watch out for scams! There are also lots of consignment stores that will buy your clothes or furniture from you.
Think about holding a garage sale to sell any other odds and ends that you can't take to consignment stores. Most neighborhoods have a neighborhood-wide garage sale, or get together with some friends to have a multi-family garage sale.
If you don't want to sell your items, you can also donate them! Make sure to write down what you are donating and get a receipt. You can then claim the value of the donations on next year's taxes.
Do you have more tips for saving money or making money when you're spring cleaning? Let me know!
Tags: Savings, Tips and Tricks
---