What's Next? A Guide for Life After College
May 5, 2016
Adrienne H., Financial Expert
You turned in your last project, took your final exam, and now, all you have to do is prepare to walk across a stage for your diploma. So, what's your plan after graduation?

This question is one that many college grads fear to answer. However, now that you have achieved this major milestone, your uncle, hairdresser, neighbor's best friend's grandma…EVERYONE is going to wonder what's next for you. Whether you already have a job lined up or have no idea how to respond to the question, this guide will help you prepare for life after the cap and gown.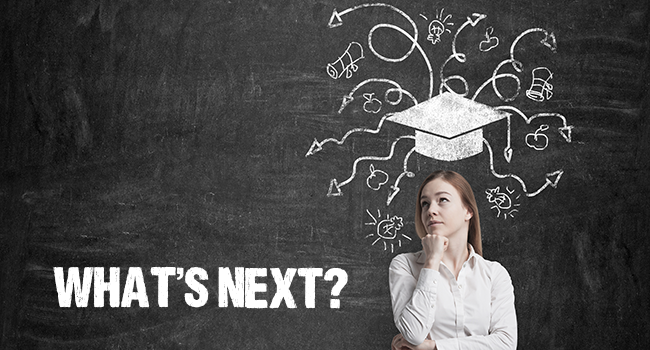 Pursue a Professional Job, Not Necessarily Your Dream Job
If you already accepted a job offer, congratulations! You're one of the few who found a career immediately after graduation. If you're still waiting to land a job in your field, be flexible. Rather than focusing on your dream job, consider all opportunities (even part-time and internships) to get your foot in the door. Sure, working in an industry that doesn't interest you may seem boring or pointless at first, however, any experience in your field will allow you to grow professionally and gain new skills — guiding you to the path you desire.
Earn Higher Credentials
For some people, graduate school is necessary to gain employment in certain occupations. To name a few, these may include law, healthcare, or social services careers. For everyone else, graduate school is an option to enhance your educational background and professional qualifications.
When considering grad school, it is important to weigh the risks and benefits. It's often expensive and requires a lot of work, but it may be worth the investment to earn more in your career and set yourself apart from others in your field. If you want to go to grad school, doing so immediately after undergrad may be easier to keep the momentum you've already built as a student.
Manage Your Finances
Receiving your diploma comes with a fist full of financial responsibilities. From paying off your student loans to preparing for retirement, this is a crucial time to manage your spending and savings. When creating a budget, the first step is factoring your necessary expenses (rent, utilities, cell phone, and loan payments) into your net income. Now that the essential costs are out of the way, you must figure out how you will use the rest of your income to ensure you're budgeting wisely.
Next, establish your financial goals — how much you want to spend, save, and invest. Even if you have a reliable income, set a spending limit to leave yourself enough money for savings and investments. As a young adult, investing for retirement may not seem like a top priority, but remember, the earlier you start a retirement fund, the earlier you will be able to retire. And, last but not least — expect the unexpected. Whether it's a flat tire, emergency room visit, or parking ticket, make sure you have a savings plan for those unforeseen expenses.
Keep Building a Network
You probably met some awesome people in college, maybe even the best! Now that you aren't with them all of the time on campus, make an effort to keep those relationships. Finding a job without any connections is challenging, so it is essential to maintain a strong network while navigating through post-grad life. As you search for or begin a job, research networking opportunities in your area. These could include joining a professional organization, checking out community calendars for upcoming local events, and volunteering. With time and common interests, friendships will be formed, and you'll discover those relationships will help you everywhere you go.
Explore the World
Once you have that nine to five job, the opportunity to travel may become limited. If you're waiting to find a job or have time before grad school, see the world while you have the time to do so. Of course, traveling comes with a fee, but if you're worried about money, don't turn your head just yet. Various abroad programs offer volunteer and scholarship opportunities that will help you see the world for little to no money. Volunteering abroad allows you to have fun while making a positive impact on the world. It's a win-win!
Take a Break, but Stick to a Routine
After four or more years of hard work, many grads feel physically and mentally drained once they leave college. If you need a break before you jump into the next chapter of your life, it's perfectly fine to take one, just set a schedule for yourself. Rather than sleeping until the middle of the afternoon or wasting your day away binge watching an entire TV series on Netflix, stay motivated by adding simple responsibilities into your lifestyle. Join a gym. Set a bedtime. Learn to cook. Do anything to add structure to your day. Sticking to a routine, while you're taking a break or waiting for a job to line up, will help you live stress-free and maintain the drive you need to get yourself back on track.
CELEBRATE!
After graduation, it's easy to become stressed from all the responsibilities the real world brings, but don't forget to have fun. Some might say college is the best time in your life, however, you just earned a college degree — be excited and celebrate!
Tags: Tips and Tricks
---