6 Bright Ideas for Safe Summer Travel
May 26, 2016
Adrienne H., Financial Expert
As summertime in Michigan is quickly approaching, we can say goodbye to icy roads, and hello to traffic cones. Winter weather might be behind us, but there are still many travel precautions to consider before hitting the roads this summer. Are you prepared to travel safely? Check out these six tips to keep your summer vacation hassle-free!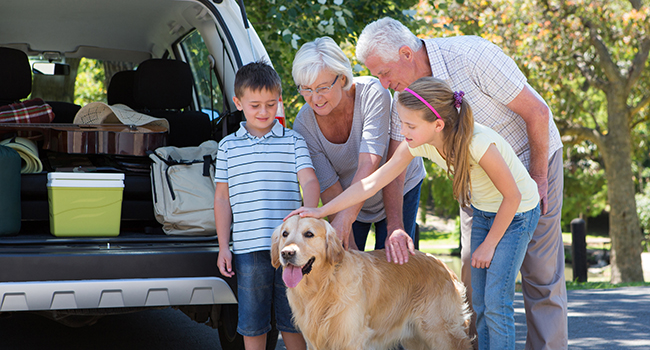 1. Keep Your Vacation Relaxing
We all know road trips can be tiring and stressful. Get your trip off to a good start by being well-rested and well-fed before you go. You'll be energized and ready to go! If you're traveling in a group, have a co-pilot help you stay mindful of the road, assist with navigation, and help make the time fly.
As we approach Memorial Day weekend and the unofficial start of summer, it is important to remember to always stay alert, and never text and drive or drink and drive. With more car accidents and people on the road in the summer, be extra aware of not only your driving, but also others on the road, including motorcyclists, bicyclists, pedestrians, and deer—especially at dusk.
2. Give Yourself Extra Travel Time
No matter how much you plan for everything to run smoothly, there's a good chance you will be affected by traffic delays. According to AAA, about 1.2 million drivers are expected to be on Michigan roads this upcoming Memorial Day weekend and traffic will continue to be heavy throughout the rest of the summer. People often feel a sense of urgency and excitement while traveling, which can lead to reckless driving and accidents. It is more important to arrive safely than on time. By following the speed limit or traffic flow, you won't have to worry as much about wasting money on a speeding ticket or accident.
If your drive usually takes four hours, you should expect to add at least an hour to your drive in summer traffic. Typically, more drivers are on the road on Friday and Sunday afternoons (Monday on holiday weekends) to get the most out of their summer weekends. If you can leave before or after the travel rush, you'll spend less time on the road or stuck in traffic!
3. Take Care of Your Vehicle
Any time you are preparing for a road trip, make sure your car is well-serviced for a long drive. Check your lights, oil, antifreeze, transmission fluid, windshield wipers and fluid, tires, breaks, and even your horn before you leave home to prevent any unwanted surprises along your route.
It is especially important to check your tires regularly in the summer as hot temperatures can take a toll on your wheels. Keep your tire pressure up to the recommended value, which is indicated in your owner's manual, and watch for any treading. Heat can cause the air inside your tires to expand and if they are wearing out, they could easily blowout.
Repairing or replacing automotive parts is not cheap. By properly maintaining and inspecting your car, you could save a lot of time and money. And of course, kick off your road trip with a full gas tank.
4. Pack Smart
Road trips are a great way to travel on a budget; however, if you're not careful, the items you find yourself needing or wanting to buy could add up quickly while on the road and at your destination. Create a packing list to prevent forgetting anything, such as medications, phone chargers, appropriate weather gear, and an emergency aid kit. Pack meals, snacks, and plenty of water to avoid spending money at rest stops and fast food restaurants. Often, food and pharmacy items are more expensive in popular tourist areas. Save money by planning ahead to ensure you have the right necessities for a happy and safe adventure.
5. Go Old School, Look at a Map
In today's GPS-dependent society, we often just plug in an address then rely on an automated voice to tell us where to go. Using a GPS can be great, but sometimes technology does not always give us the most efficient route and if you suddenly lose your connection, you could get lost. Make sure you look through the driving instructions before you start to drive, so you have an idea of where you're going. A paper map is always a good backup! Additionally, with more road construction and drivers on the road in the summer, looking at a map can help you figure out alternative directions that a GPS wouldn't compute for you.
To avoid heavy traffic and detours, the Michigan Department of Transportation (MDOT) offers an awesome online tool on the Mi Drive website that shows you current road construction and automobile accidents across the state. For travel convenience, you can see the real-time road and traffic information on MDOT's mobile app. If you plan to use technology, make sure your electronic devices are fully charged and you bring the necessary chargers, and batteries in case they lose power.
6. Come Home Happy
Once you arrive home safely, you will probably want to unpack, relax, and not worry about any issues. For instance, thieves can tell if your home has been empty by looking for piled up mail or newspaper and overgrown lawns. Some community police departments will patrol your home if you notify them you will be away. Call your post office to stop your mail, or ask a trusted friend or neighbor to pick it up from your mailbox. Do you know anyone in the neighborhood looking for summer work? Ask them to mow your lawn if you're going to be gone awhile.
Additionally, think about leaving a light on inside your house. Worried about wasting electricity? Use energy-efficient light bulbs to save money or invest in a timer for your indoor and outdoor lights. Think about adding these extra security layers while you're away to ensure your house is kept safe and you can come home happy.
Safe travels!
Tags: Tips and Tricks
---