Financial Freedom with MSUFCU Visa Cards
MSUFCU Visa Credit Cards are the ideal go-to card for everyday purchases, emergencies, or as a backup to protect your checking account from overdrafts. Choose the card that's right for you – enjoy our lowest rate with MSUFCU's Platinum Visa or earn cash back with MSUFCU's Platinum Plus Visa.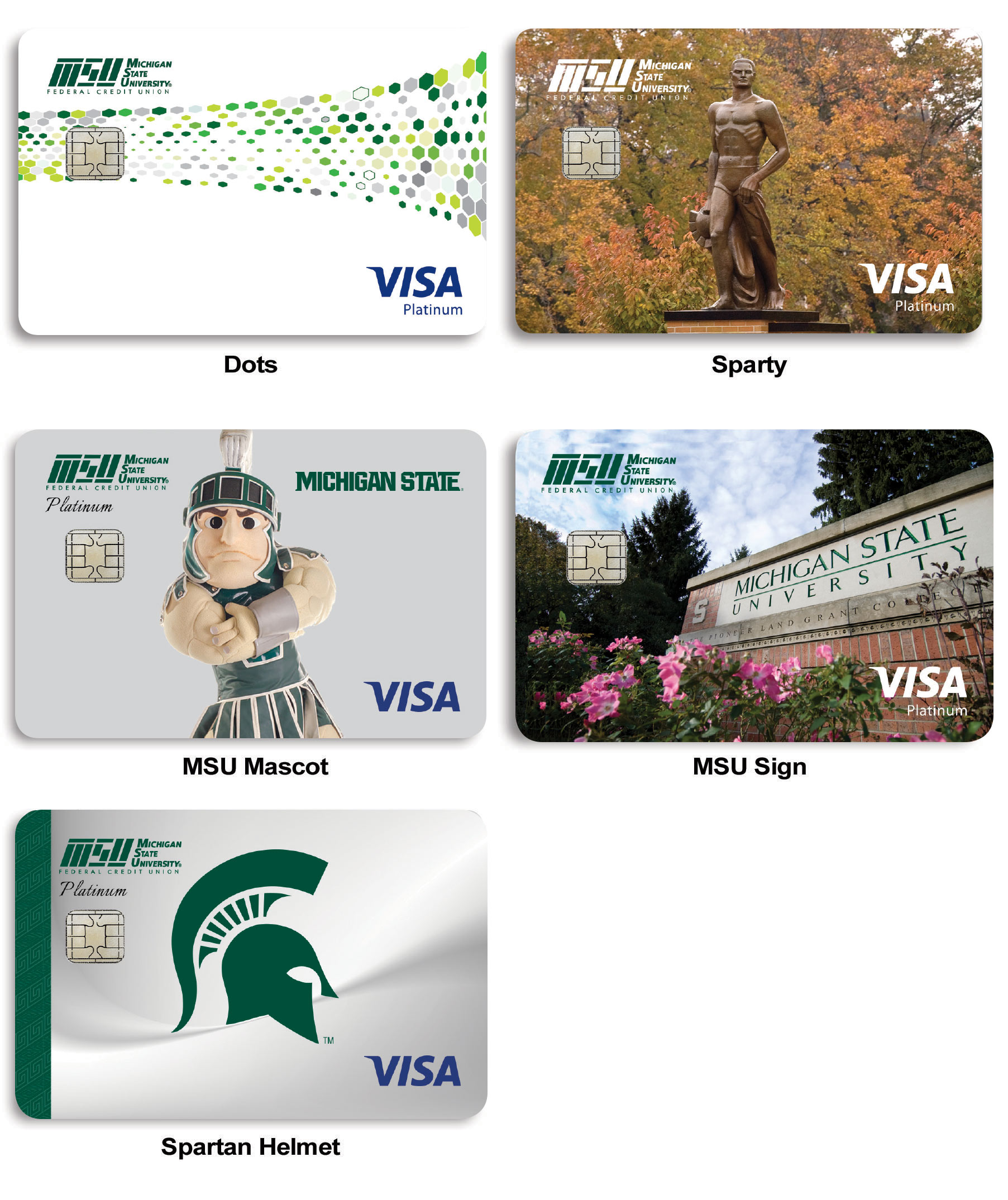 MSUFCU's Credit Rebuild Visa is designed for members who need assistance rebuilding their credit. This credit card is unique in that it allows you to build a positive credit history from the start by paying down the credit card's balance.

After three years of making on-time payments to your Credit Rebuild Visa, you can graduate to MSUFCU's Platinum Visa Credit Card!

An MSUFCU loan officer will be happy to discuss if the Credit Rebuild Visa is right for you and how this card can help you get your credit back on track. Contact us with any questions you may have about MSUFCU's Credit Rebuild Visa.

Credit Rebuild Visa Features
---
Credit limits from $1,000 to $2,5001

17.9% APR

No annual fees

24/7 account access with ComputerLine and Green on the Go® mobile banking

Build a positive credit history

Improve your credit score
Credit Rebuild Visa Requirements
---
Verified income

Suitable net disposable income

Restricted savings account with an amount equal to the member's credit limit

Card will be issued for three years

Must make on-time payments each month

Failure to pay 30 days past the Credit Rebuild Visa's due date will result in automatic cancellation of the card
Restricted Savings Account — Three Ways to Fund Your Credit Rebuild Visa
---
Member provides full credit limit amount — e.g., for a $1,000 limit, member deposits $1,000 to restricted savings account.

Member provides a portion of the credit limit and MSUFCU funds the rest from an advance from the Credit Rebuild Visa.

Your Credit Rebuild Visa available limit will be reduced by the amount advanced.

MSUFCU advances the full credit limit. Credit Rebuild Visa will have no available limit until you begin making payments to your Credit Rebuild Visa.
Interest Rates and Interest Charges

Annual Percentage Rate (APR) for Purchases

17.9%

APRs for Balance Transfers

17.9%

APRs for Cash Advances

17.9%

How to Avoid Paying Interest
on Purchases

Your due date is at least 25 days after the close of each billing cycle. We will not charge you interest on purchases if you pay your entire balance by the due date of each month.




For Credit Card Tips from the Consumer Financial Protection Bureau

To learn more about factors to consider when applying for or using a credit card visit the website of the Consumer Financial Protection Bureau at http://www.consumerfinance.gov/learnmore.
Fees

Transaction Fees

International transaction and cash advance fees

1% for ATM transactions
3% for all other transactions calculated after the transaction has been converted to U.S. dollars

Penalty Fees

$25 if the minimum payment due is $25 or more;

$15 if the minimum payment due is $15 to $24.99; or

$0 if the minimum payment due is less than $15.

Other Fees

Returned Convenience Check

$25

How We Will Calculate Your Balance: We use a method called "average daily balance (including new purchases)."
1 Credit limit based on member's credit score. Funds for approved credit limit placed in a restricted savings account.

---