Financial Freedom with MSUFCU Visa Cards
MSUFCU Visa Credit Cards are the ideal go-to card for everyday purchases, emergencies, or as a backup to protect your checking account from overdrafts. Choose the card that's right for you – enjoy our lowest rate with MSUFCU's Platinum Visa or earn cash back with MSUFCU's Platinum Plus Visa.

A Platinum Visa Credit Card with a low $500 limit is available for Cha-ching members ages 15–17. A qualified parent joint party is required.
Receive a FREE Practical Money Skills for Life CD-ROM when you are approved for a Platinum Visa for Teens Credit Card. This CD-ROM contains great budgeting information and helps you analyze the cost of credit. Other Platinum Visa for Teens card benefits include:
Establish positive credit history and create positive financial habits with the financial institution you trust

No annual or balance transfer fees

25-day grace period on purchases paid in full

Support from MSUFCU's knowledgeable and helpful staff

24/7 access through ComputerLine, MoneyLine, and the MSUFCU mobile app.
Interest Rates and Interest Charges

Annual Percentage Rate (APR) for Purchases

8.9% - 16.9% based on your creditworthiness

APRs for Balance Transfers

0% introductory APR for six (6) months from date of account opening. Rate then reverts to standard rate (8.9% to 16.9%),
based on your creditworthiness.

APRs for Cash Advances

8.9% - 16.9% based on your creditworthiness

Penalty APR and When It Applies

17.9% The Penalty APR is applied if your account becomes delinquent 60 days. How Long Will the Penalty Rate Apply? The Penalty Annual Percentage Rate will apply indefinitely.

How to Avoid Paying Interest
on Purchases

Your due date is at least 25 days after the close of each billing cycle. We will not charge you any interest on purchases if you pay your entire balance by the due date each month.

For Credit Card Tips from the Consumer Financial Protection Bureau

To learn more about factors to consider when applying for or using a credit card, visit the website of the Consumer Financial Protection Bureau at www.consumerfinance.gov/learnmore.

Fees

Transaction Fees

International transaction and cash advance fees

1% for ATM transactions
3% for all other transactions calculated after the transaction has been converted to U.S. dollars

Penalty Fees

$25 if the minimum payment due is $25 or more;

$15 if the minimum payment due is $15 to $24.99; or

$0 if the minimum payment due is less than $15.

Other Fees

Returned Convenience Check

$25
How We Will Calculate Your Balance: We use a method called "average daily balance (including new purchases)."
Loss of Introductory APR: We may end your introductory APR and apply the Penalty APR if your account becomes delinquent 60 days.
---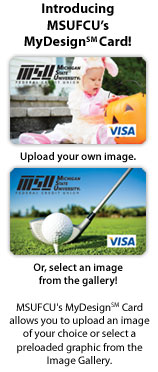 NEW! MyDesignSM Card Now Available!
---
Create a card that's as unique as you with MSUFCU's new MyDesignSM Card, available for select MSUFCU Visa Debit and Credit Cards.
MSUFCU's MyDesignSM Card allows you to upload an image of your choice or select a preloaded graphic from the Image Gallery within the MSUFCU MyDesignSM Visa Card Creator in ComputerLine! Click here to view image guidelines and terms and conditional for your MyDesignSM Card.
Your card information will remain the same; only the image on the card will change. Your name and card number will be printed on your new MyDesignSM Card, instead of embossed like traditional cards, giving it a new sleek look!
Create your own MyDesignSM Card

At Home:
Login to ComputerLine. Under the Manage section select MyDesign

SM

Visa Card Creator.

Follow the instructions to upload an image and create your MyDesign

SM

Card, or select an image from the MyDesignSM Image Gallery.

You'll receive an eMessage within one (1) business day with the approval status of your card image.

Then your MyDesign

SM

Card will be mailed to you.
---