Financial Freedom with MSUFCU Visa Cards
MSUFCU Visa Credit Cards are the ideal go-to card for everyday purchases, emergencies, or as a backup to protect your checking account from overdrafts. Choose the card that's right for you – enjoy our lowest rate with MSUFCU's Platinum Visa or earn cash back with MSUFCU's Platinum Plus Visa.
Apply for your MSUFCU Visa Credit Card
Apply Online

Apply by Phone

Apply in Person
Apply by Mail
Sign into ComputerLine and click Apply for a Loan in the top menu.

Call 800-678-6967 or 517-333-2222 to apply for your MSUFCU Visa Credit Card.

Apply for your Visa Credit Card at any MSUFCU branch location and, once approved, receive your new card before you walk out the door!
Print, complete and return the Visa Application to any MSUFCU branch or mail to:
MSUFCU Visa Dept.
PO Box 1208
East Lansing, MI 48826-1208
---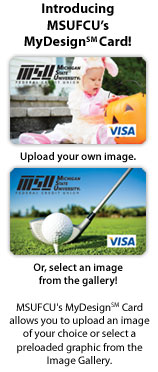 NEW! MyDesignSM Card Now Available!
---
Create a card that's as unique as you with MSUFCU's new MyDesignSM Card, available for select MSUFCU Visa Debit and Credit Cards.
MSUFCU's MyDesignSM Card allows you to upload an image of your choice or select a preloaded graphic from the Image Gallery within the MSUFCU MyDesignSM Visa Card Creator in ComputerLine! Click here to view image guidelines and terms and conditional for your MyDesignSM Card.
Your card information will remain the same; only the image on the card will change. Your name and card number will be printed on your new MyDesignSM Card, instead of embossed like traditional cards, giving it a new sleek look!
Create your own MyDesignSM Card

At Home:
Login to ComputerLine. Under the Manage section select MyDesign

SM

Visa Card Creator.

Follow the instructions to upload an image and create your MyDesign

SM

Card, or select an image from the MyDesignSM Image Gallery.

You'll receive an eMessage within one (1) business day with the approval status of your card image.

Then your MyDesign

SM

Card will be mailed to you.
---