Youth & Student Accounts
MSUFCU offers accounts designed specifically for our younger members ages 0-17 and for MSU & OU students. Our Youth and Student Accounts focus on financial education and developing positive financial history and habits.
MSU Students
---
We know you're busy studying, working, and socializing. MSUFCU has you covered with FREE accounts and services created just for college students that make handling your finances easy.
Youth Accounts
---
Start the kids in your life out on the right financial path. MSUFCU offers accounts that focus on the importance of saving and make learning about your account fun!


Visit the Dollar Dog Clubhouse!

If your child loves to learn about saving money, then the Dollar Dog account is for him/her! Your child will learn positive savings habits, enter to win great prizes, and enjoy a fun and interactive website especially for Dollar Dog members.

FREE block bank when your child opens a Dollar Dog account with $50 or more!1 Plus, when your child opens a Dollar Dog account, he/she will receive:

Dollar Dog Quarter Saver

Dollar Dog Savings Passbook

Quarterly newsletter filled with fun activities and information about saving

Dollar Dog website with games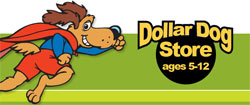 With every $10 deposited to your child's Dollar Dog account, he/she will receive one "Dollar Dog Coin" (maximum of 10 coins earned per visit). Save these coins to "purchase" items from the Dollar Dog Store at every MSUFCU branch office. Child must make a deposit at an MSUFCU branch to receive his/her coin(s).
1A parent/legal guardian or related adult must be joint on a child's Dollar Dog account and complete the online membership application. Read MSUFCU's Children's Online Privacy Protection Act Policy for further information.
---