Quality Dairy Rewards Card
Visit any MSUFCU branch to pick up your QD Rewards Card today. MSUFCU members will receive a discount of $.05 per gallon of gas at any QD gas station, plus take advantage of other discounts and specials.
Visa Discounts
Receive exclusive discounts and special offers at a wide variety of merchants when you use your MSUFCU Visa. Details

Love My Credit Union Rewards

Credit Union members have access to exclusive discounts and benefits including savings on wireless services such as Sprint and much more! Details

Discounts at Moosejaw
555 E. Grand River Avenue, East Lansing, MI
All MSUFCU members receive 15% off1 all full price, in stock items and 25% off all Moosejaw Private Label items when you pay using your MSUFCU Visa Card.
Discounted Amusement Park Tickets
Credit Union members receive a discount on amusement park tickets to Cedar Point and Michigan Adventure. Details
1 Some exclusions apply. See shop for details.
---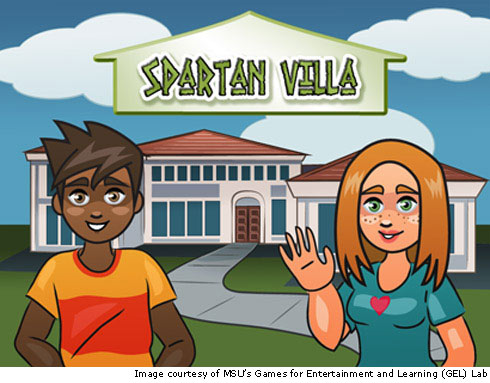 Spartan Villa Is NOW AVAILABLE
Classes are back in session and students are moving back into town—maybe right into your house! Can you manage a household, an active social life, and keep your financial situation in the green? Welcome to Spartan Villa!


Spartan Villa is a fun-filled, strategy game where you manage the ultimate college house by building awesome rooms, attracting the best tenants, and manage your finances to pay for it all.


Paying bills on time, allocating funds to the proper accounts, and monitoring your monthly spending are important aspects of the gameplay. Ultimately, this allows you to purchase rooms to expand your house, host social events to attract future tenants, and increase your overall credit score.


By successfully completing these tasks, you'll learn effective money management skills and increase your financial literacy in a way that is engaging, and is also accessible to a younger audience.

Play the game!

Spartan Villa is available as a web version, and also in the following platforms:
•

iPad®, iPhone®, and iPod® Touch
• AndroidTM devices.
• Mac OS X
• Windows
Spartan Villa was developed by the Games for Entertainment and Learning (GEL) Lab at Michigan State University and was sponsored by Michigan State University Federal Credit Union.


iPad,® iPhone,® and iPod® are registered trademarks of Apple, Inc. AndroidTM is a trademark of Google, Inc.
---