How Meal Prepping Can Save You Time and Money
March 22, 2018
Adrienne H., Financial Expert
I always thought meal prepping was a good idea to save money and eat healthier, but I also believed it was time-consuming and I never really got into the habit. After many nights of coming home from work hungry and ready to eat dinner, but too tired to make it, I found that meal planning can actually save you time and money, and you can more easily make sure you are eating well-balanced meals.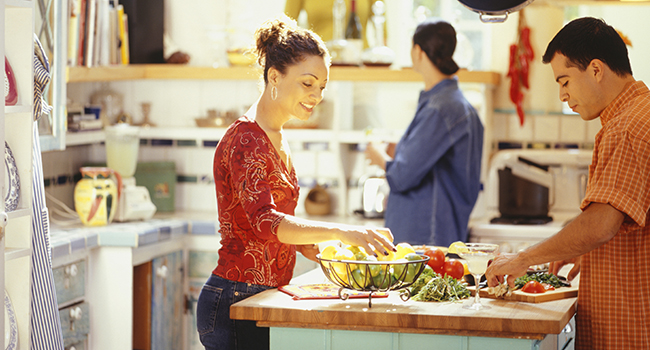 Create a menu for every meal and day of the week
Start by listing a variety of meals you enjoy to eat for breakfast, lunch, dinner, and don't forget snacks. Next, assign each meal to a day and time of the week. To ensure you're not overspending and buying unnecessary food, list all of the ingredients you will need to buy for each of those meals.

To utilize more of the ingredients you have to buy for those meals, consider choosing meals that are different but use some of the same ingredients. For example, if you are making chicken for a main dinner entrée, you can cook extra and save it for a chicken sandwich wrap for lunch. And because you'll need tortilla wraps for lunch, you might consider having tacos one night to use the leftover tortillas.

Schedule a time to buy ingredients and prepare all food
This was the hardest step for me. I love to cook, but buying and preparing all of the ingredients are not my favorite parts of creating a meal. Now that I have scheduled preset times during the week to spend at the store, I am able to spend three hours total shopping, washing and cutting vegetables, and gathering meals together for the week. You might be thinking you don't have time to dedicate just to grocery shopping and preparing food, but if you make it a priority on your weekly to-do list, you'll most likely find you spend less time during the week thinking about what you're going to have and how long it will take you to make. Plus, I won't have to buy any ingredients that will go bad before they are used since I planned when I would eat them!

Enjoy quick and easy meals
Instead of calling the pizza place desperate for food immediately, grab your prepared meal out of your refrigerator and heat it up (or leave it as it is). If you have to heat your meal, it might take a 10-30 minutes to cook on the stove or in the oven. However, you won't have to spend time in the middle of your weekly schedule to wash and chop food. You'll be glad you spent all of that time at the beginning of the week shopping and preparing your meals!

Recycle and reuse weekly menus
Sometimes deciding what you're going to eat for the week is challenging. To skip the first step of making a weekly menu, save all of the menus from week to week and reuse them when you can't decide what you're going to have that week.

If you want a healthier lifestyle, more time, and more money saved, try meal prepping!
Tags: Budgeting, Savings, Tips and Tricks
---