Fraud Prevention Series: Tools to Help Keep Your Accounts Safe
June 9, 2020

According to the FBI, $2.7 billion in online theft and fraud was reported to the agency in 2019. While funds are protected up to $250,000 by the National Credit Union Administration, what else can credit unions provide to keep your accounts safe? And what can you do?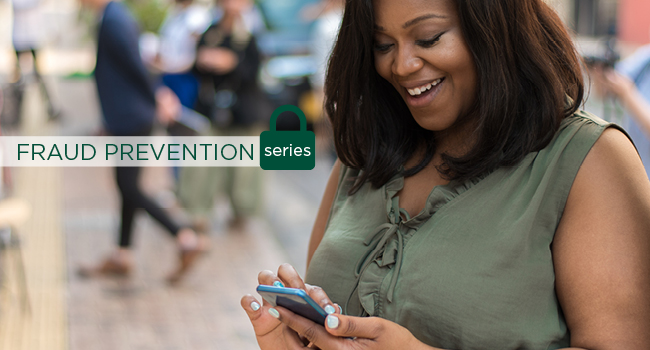 Set up account alerts
Whether through email, text, or mobile app, setting up alerts can help you keep tabs on your account. You should check your accounts frequently, and alerts can help you be more aware of any unauthorized transactions.
Use card lock
Using the card lock feature on a mobile app, you can lock a misplaced debit or credit card, essentially turning it off. This prevents a thief from making fraudulent charges with a stolen card number. If you find the card, you can unlock it, or turn it back on — all without a call to your card issuer.
Improve your PINs and passwords
The foundation of security for your ATM or debit card PIN should easy for you to remember and hard for others to guess. It's not a good idea to use the same password for more than one account. Best practice is to use a combination of upper and lower case letters, symbols, and punctuation when creating a password.
Call your financial institution back
If you receive a phone call from someone saying they're from your institution, don't provide any sensitive information even if your Caller ID says it is your financial institution. Instead, call them back. Caller ID can be engineered so it appears scammers are calling from legitimate businesses. The same practice should be followed for emails; to check if the email is legitimate, contact your financial institution through a verified phone number outside of the email.
It's important for you to do your part to keep your accounts safe. By using the tools your financial institution provides and applying other account security guidelines, you add extra protection which can help reduce the chance you will be a victim of fraud.

Tags: Fraud Prevention Series, Security, Tips and Tricks
---