Value of Using a Digital Wallet
August 27, 2020

Our smart phones can allow us to make safer, contactless purchases using digital wallets, eliminating the need to use a physical credit card and reducing the risk of COVID-19 exposure. Learn more about using digital wallets as a way to make purchases with minimum exposure.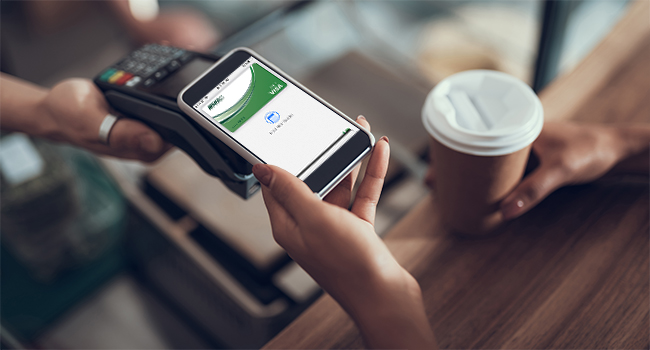 What is a digital wallet and is it easy to use?
A digital wallet is an app on your smartphone that stores payment information from a credit or debit card, then allows you to use your device to make purchases.
Convenience, speed and reduced contact are the main benefits of using digital wallets. Also, you don't have to carry cash, debit, or credit cards because your card information is stored right in your phone.
Is it safe to use a digital wallet to pay for items?
Contactless digital transactions are a secure and safer way to pay. Because your account information is encrypted, it can only be accessed via a password or, with some mobile devices, your fingerprint or facial recognition. Additionally, most card issuers have no fees for using digital wallets and offer fraud protection.
Can using a digital wallet help keep me from becoming a fraud victim?
Using a digital wallet for payments can actually help prevent fraud from occurring on your account. That's because:
* For each purchase, there is a random payment code generated that cannot be used again.
* Full card account numbers are not displayed, meaning prying eyes won't be able to capture card numbers for future use.
* Transactions are covered by the same privacy protections as your physical card.
When you are ready to pay, open your digital wallet app or use your phone's fingerprint reader, hold your phone near the compatible reader next to the merchant's register, and you're done.
How do you set up a digital wallet?
Setting it up is easy. Open the digital wallet app on your smartphone and add and verify the information for each debit or credit card you want to store. Keep in mind only one of the cards will be your default payment option and will be the primary card that's used for purchases. To change cards, you simply update the default card or manually select a new card before you start a transaction.
With a digital wallet, there's no need to fumble through your wallet or try to read your card number. You just tap and go.
Tags: Credit Cards, Security, Money Management
---