Fraud Prevention Series: 7 Ways to Keep Your Account Safe When Shopping Online
December 8, 2020

In 2019, $3.5 billion was reported lost by businesses and individuals due to fraud, according to the Federal Bureau of Investigation's (FBI's) Internet Crime Complaint Center Report. Here are some tips to help you from becoming a victim of online fraud.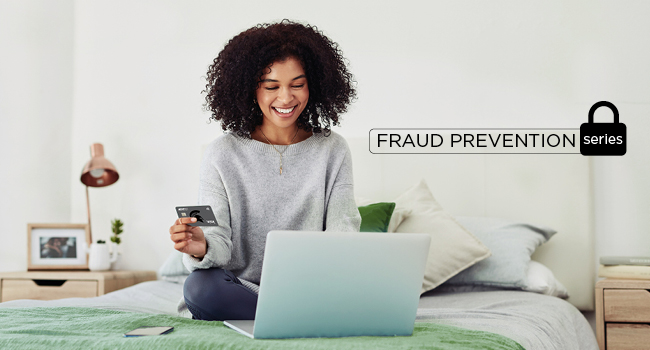 Shop with retailers you know
Shop only with stores you are familiar with, bookmarking your favorite shopping websites to get there quickly and safely. Be aware that if you make the smallest typo when typing the name of the retailer into your browser, you could open a fake site causing you to unwittingly hand scammers your credit card number and other personal information.
Check out new-to-you businesses
Do your homework before clicking on any business website that is not familiar to you. Look at online reviews and search for complaints on the Better Business Bureau's website.
Before you buy, check website security
Make sure the retailer's website's URL starts with "https" rather than just "http." And verify they use SSL (secure sockets layer) encryption indicated by the lock icon in the browser bar of the site. This ensures that any information you provide on this site is secure.
One way to keep cyber crooks from hacking your accounts is having strong passwords. All passwords should include complex sets of lower and uppercase letters, numbers, and symbols. And it's a good idea to never use a password more than once.
Pay with credit, not debit
To enhance your security even more, use a credit card to shop. Unlike debit cards, credit cards do not provide direct access to money in your financial account. And they offer zero-dollar liability for fraud. This means you're not out any money if a fraudster uses your account to make a purchase.
Review your monthly statements for fraud
It's a good idea to be in the habit of checking your financial and credit card statements for any false transactions. You can also set up account alerts to notify you of activity on your card or account. You can then review these transactions to make sure they are legitimate.
If you are scammed, report it
If you experience fraud, contact your financial institution or credit card issuer as soon as possible. Then, file a complaint with the U.S. Federal Trade Commission and the FBI's Internet Crime Complaint Center.
Following these safety tips when you shop online may help you thwart scammers and even avoid becoming a target of fraud in the first place.
Tags: Fraud Prevention Series, Security, Credit Cards
---