Fraud Prevention Series: 5 Ways to Prevent Fraud in 2021
January 12, 2021

Preventing fraud is an ongoing process. While you are making other changes as the New Year begins, consider taking some simple steps to protect yourself. Keep in mind, you are the best defense against fraud.
Here are five ways you can reduce your risk of fraud this year.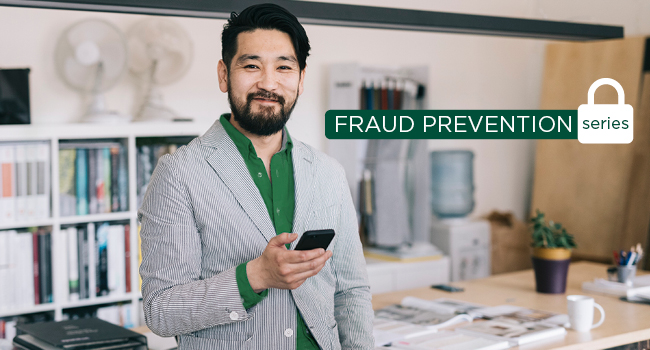 Improve password protection
It is important to have different passwords for each of your accounts, and to change them at least annually. If online retailers, financial institutions, and service providers offer dual-factor authentication, take advantage of it. This extra step provides extra security.
Taking a look at your credit report four times annually is recommended, as you can catch any discrepancies and identify possible fraud. Using AnnualCreditReport.com, you can receive a free credit report from each of the three major credit reporting agencies — Equifax, Experian and TransUnion.
Locking your Facebook profile so only your friends can see it is a simple process and will keep possible scammers out of your account. Visit the Settings & Privacy page within your Facebook profile to check and change your privacy settings.
Review unfamiliar online retailers
Purchasing items only from online retailers you are familiar with is good practice. If you would like to try a new online retailer, first search for the company's name and the word "security" to see what comes up. Then, look for "https" in the address bar versus "http," and for a padlock icon. These components will show the site is secure.
Copy your wallet contents
Scanning your wallet contents is a simple way to protect yourself from credit card fraud and identity theft. It only requires you to make front and back copies of all ID and credit cards you carry, and keeping them in a safe and accessible place. Then, if you happen to be a victim of fraud, you will have all the information you need to report it or cancel cards.
Although fraud remains a common occurrence, taking these five simple steps can help keep your personal information, accounts, and credit cards protected.
Tags: Fraud Prevention Series, Security, Tips and Tricks
---