Fraud Prevention Series: Avoiding Holiday Shopping Scams
November 9, 2021

With the holidays approaching, 'tis the season for scams as cyber thieves look for ways to exploit consumers' holiday shopping and donating habits. To keep your finances safe, here are some tips to avoiding holiday scams.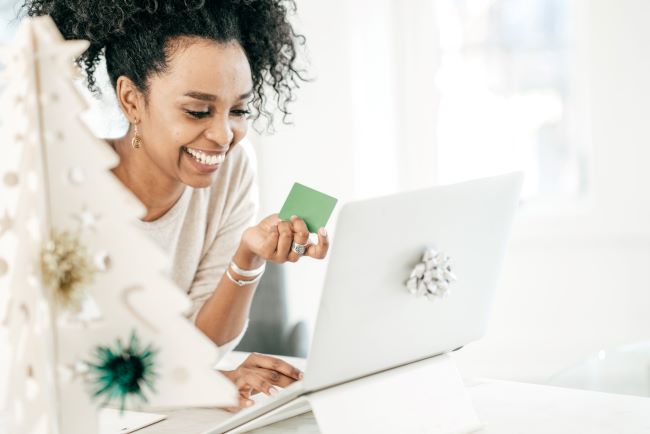 Confirming a retailer's website is authentic before providing your personal information and payment details is good practice. The best way to do this is by going to the official website. Be careful when you type in your favorite retailer's website address into your browser as even a minor typo can take you to a fraudulent site.
2. Watch for phishing emails
Phishing is when emails claiming to be from reputable companies are sent in order to persuade individuals to provide personal information, such as passwords and credit card numbers. During the holiday season, cybercriminals may send emails encouraging shoppers to click on links that will take them to fraudulent websites. Thieves can then steal entered credit card details.
3. Lookout for charity scams
This form of fraud takes away donations from those who need it most. Whether it's through an email, social media post, crowdfunding platform or cold call, scammers are looking to take advantage of you

r generosity.
I

t is recommended to never let anyone rush you into donating, and to be especially cautious if organizations have copycat names or names similar to reputable charities.
Another red flag: the charity or organization asks you to donate cash, gift cards, virtual currency or via a wire transfer. To confirm a charity is legitimate, check the website — most legal charity organizations' websites end with .org, not .com.
4. Avoid too-good-to-be-true deals
Keep in mind, if a deal seems too-good-to-be-true, it most likely is. It may be a scam to lure you to a fraudulent website. To verify a deal, visit the retailer's official website and make sure the promotion is legitimate before making a purchase.
Protect yourself this holiday season by looking for the lock symbol next to the website name, being wary of emails and calls you are not expecting, and avoiding deals that seem suspicious. And, above all, be just a little more cautious when shopping or donating during the holiday season.
Tags: Fraud Prevention Series, Money Management, Credit Cards
---