Things to Consider When You Buy an RV or Boat
February 16, 2023

As it starts to warm up and you begin planning your summer, you may be in the market for an RV or boat to add to your adventures. Whether you're taking a long road trip or headed to the nearby lake, you should consider a few things when making a large purchase like this.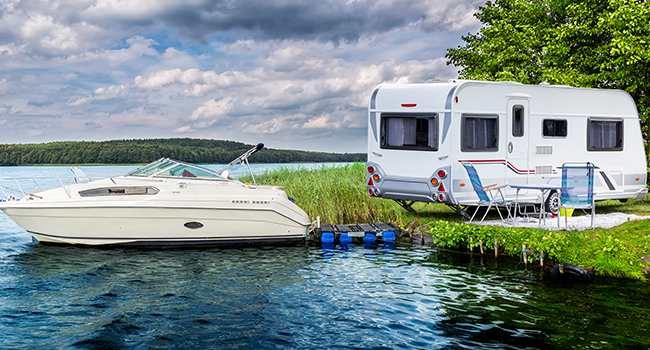 Figure out what you want out of your boat or RV.
When making these purchases, you'll want to consider your lifestyle and what you plan to use them for.
RVs can vary in size, weight, and number of beds and have various options. You'll want to consider how often you're going to camp and whether you're bringing children and/or pets. Also, note what your favorite campgrounds allow in terms of size. Many rustic campgrounds limit the size of an RV to 25-35 feet long.
For a boat, consider what you want to do. Do you want to fish, go wakeboarding, float, or do another water activity? Making a list of features and activities before you start looking can help narrow your search.
Next up, your budget.
After establishing your must-haves and wants for your RV or boat, you'll want to set your budget. This can help determine which brands, models, and price ranges too look at. You can see if you need to save more or get additional funds to help you make your ideal purchase.
New or used?
A new RV typically comes with a manufacturer's warranty and may last longer than buying a used one. The price of a new RV or boat will be higher than a used one. Still, it also may have extra bells and whistles like a more powerful boat engine or additional sleeping accommodations in an RV. It's important to be realistic about how many features you will use.
A used RV or boat may be the more cost-effective route, especially if the previous owner kept up with maintenance. Your insurance costs may also be lower and a typically lower depreciation value.
If you've been daydreaming of road-tripping to one of the national parks or spending the summer on the water, MSUFCU can help you achieve your goals. You can find what you're looking for with a wide range of our motor vehicle products. For more information, visit msufcu.org/vehicleloans
Tags: Tips and Tricks
---