5 Shopping Safety Tips for the Holidays
October 5, 2023

With the holidays approaching, 'tis the season for scams as cyber thieves look for ways to exploit consumers' online holiday shopping habits. To help keep your finances safe this year, here are some tips to avoid online shopping scams and how to protect yourself. Being proactive is the best defense against fraud!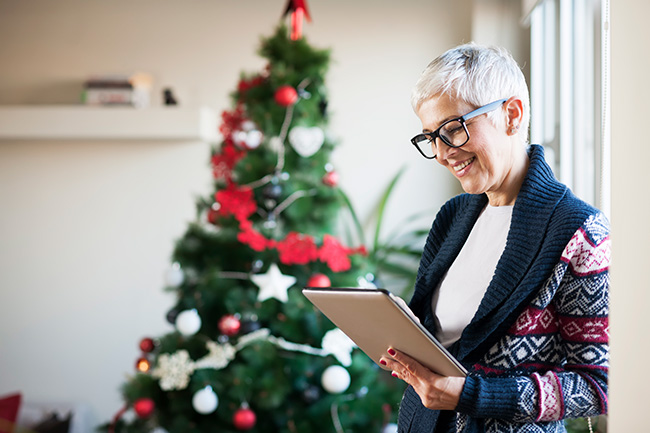 Be Skeptical of Unexpected Emails and Texts - "Phishing" emails and text messages claiming to be from reputable companies lure individuals into revealing personal financial information. Be cautious of unexpected messages and never click on links.
Verify Unknown Retailers, Messages, and Deals - Eye-catching advertisements from unfamiliar companies will start appearing on social media and other websites. Protect yourself by researching if the retailer is legitimate.
Create Strong Account Passwords on Retail Websites - To make a strong and secure password, use a long string of numbers, symbols, and upper and lowercase letters. It will make it more difficult for scammers to hack your financial information from retailer websites.
Be Wary of Package Delivery and Fake Order Scams - Fraudsters create text messages or emails that appear to be retailers reporting issues with your orders and shipments or asking you to confirm you've received a package that never arrived. If you receive an unexpected order or delivery notification, avoid clicking any links within the message until you've confirmed they're legitimate.
Shop Safer Online with CVVkey™ - MSUFCU offers the CVVkey financial app which allows members to securely enroll their VISA Credit Card to receive new and unique CVV2 codes to use while shopping online or over the phone. The CVVkey code will change throughout the day, so if your card number is stolen, future purchases will be denied without your unique code. To learn more, visit msufcu.org/cvvkey.
For more tips on how to protect yourself, check out our Fraud Prevention Blog Series at msufcu.org/blog.
Tags: Fraud Prevention Series, Security, Tips and Tricks
---