Making the Holidays Merry and Bright through Giving Tree
November 9, 2023

Everyone deserves a merry and bright holiday, and we at MSUFCU are working to make holiday dreams come true for children and families in our communities through our annual Giving Tree program.
Learn how we're partnering with nonprofit organizations across Michigan to support children and families in our communities and how you can help us ensure families experience a joyful holiday season!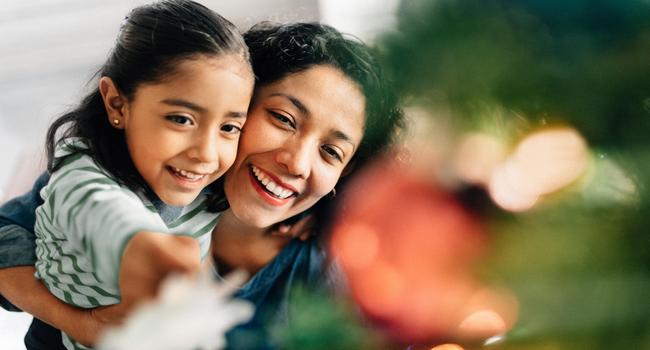 Giving back to our communities is a core value at MSUFCU. Through Giving Tree, you can help us give back locally this holiday season.
This year, we're proud to partner with five nonprofit organizations that are making a positive difference for children and families in the communities we serve. Read on to learn more about each nonprofit works hard to make an impact not only during the holidays, but each and every day.
Greater Lansing — Child and Family Charities
"Child and Family Charities' staff and clients are grateful for the meaningful partnership with MSUFCU, a collaboration that goes beyond financial support and involves the entire MSUFCU community through volunteering and gift-of-goods opportunities such as the Fill the Backpack school supply drive and our campaign for Christmas gifts for local children in need. The MSUFCU Giving Tree initiative will help support close to 100 children with over 300 gifts in our Hope for the Holidays program. It's the magic of giving — together, we can bring joy and hope to families in our local community. When we come together with a shared purpose, we can make a profound impact on the lives of those we serve."
— Julie Thomasma, CEO, Child and Family Charities
Grand Rapids — Comprehensive Therapy Center
"MSUFCU's generosity has allowed us to offer speech and occupational therapy services at no cost to several families. Being able to be a "yes" in a world full of "nos" means that these young people get to explore communication, language, sensory processing, and big body movements in a safe and encouraging space when their income and insurance might otherwise prevent it.
CTC is proud to be a catalyst of growth and opportunity for underserved and marginalized communities. MSUFCU's partnership means that more children will have an opportunity to learn to navigate their differences through quality healthcare."
— Ellen Sawyer Executive Director, Comprehensive Therapy Center
Oakland County — Neighborhood House
"The Neighborhood House Giving Tree program offers toys, presents, and clothing from birth to age 18. Through this program, we ensure that the families we serve experience a magical holiday season.
Neighborhood House is a comprehensive human services agency in our community. We rely on the support of both individuals and organizations to help community members during times of hardship. We are a comm-YOU-nity of neighbors helping neighbors thrive."
Detroit – American Indian Health & Family Services
"Situated in Detroit, AIHFS (American Indian Health and Family Services) has established a strong partnership with Michigan State University Federal Credit Union (MSUFCU) over the past two years, with MSUFCU generously sponsoring AIHFS' charity galas, with funds raised going to assist expanding services. This year, MSUFCU is furthering their support by including AIHFS in their Giving Tree program, allowing staff and members to purchase gifts for the AI/AN (American Indian/Alaska Native) youth served by AIHFS. This initiative not only embodies the spirit of giving but also promises to significantly impact AIHFS as an organization, providing essential resources and bolstering our mission to support and care for our youth and our community. MSUFCU's commitment strengthens AIHFS as a vital pillar of support in Detroit."
— Kimberly Copeland, Ph.D., MPA, CFRE (AIHFS Development Director)
Traverse City — Michael's Place
"Michael's Place offers a community of support and understanding for those who have experienced the life-altering impact of loss. Our programs are designed to help reduce the feeling of isolation while providing valuable resources and coping skills to help navigate the grief journey.
MSUFCU has been a generous supporter of Michael's Place and its mission through event sponsorship, financial support, and now, with this year's Giving Tree. We are so grateful to MSUFCU for this special opportunity that will not only provide thoughtful gifts but also offer a sense of community support that is so valuable during a difficult time of the year for our grieving families."
Get Involved with Giving Tree
Getting involved in your community and helping others is more meaningful and rewarding than you might imagine. We invite everyone to participate in our Giving Tree program to help ensure children and families have a merry and bright holiday!
Now through November 30, 2023, visit any MSUFCU branch to select a gift tag from our Giving Tree display. Each tag contains an individual wish list item to purchase. Return the unwrapped gift and Giving Tree tag to the branch no later than December 1, 2023.
If you prefer, you can make a monetary donation at the branch or contact our Call Center to contribute over the phone. Additionally, you can choose to support families by shopping online through Amazon.com.
Without your generosity, we wouldn't be able to help holiday dreams come true in our local communities. Thank you for supporting our Giving Tree program!
To learn more about Giving Tree, visit msufcu.org/givingtree.
Tags: Community
---