Ideas for Creating DIY Holiday Gifts
December 4, 2019

Do it yourself (DIY) gifts are great ways to personalize and save a little money when you are making your list this holiday season. Here are some ideas for simple DIY gifts.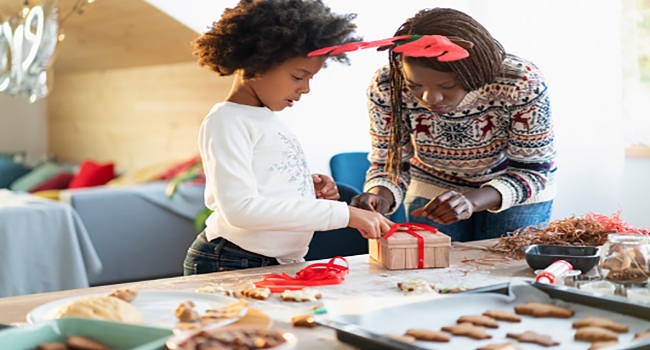 Homemade cookies
Bake your favorites and purchase some holiday tins as containers. Place parchment paper inside, and add the cookies. Include the recipe(s) for an added gift.
BBQ Kit
If you have a family member or friend who likes barbeque, round up favorite BBQ fixings — ketchup, BBQ rub, and grilling tools — in one basket. Or make your own sauces and rubs, if you prefer.
Paint ornaments
Create customized ornaments as gifts using paint pens. Make a holiday design or personalize the ornaments with names and important dates, such as birthdays, anniversaries, and more.
Recipe box
Instead of giving your favorite chefs another cookbook, write down their original creations on recipe cards and place in a wooden recipe box. Include special holiday recipes, too. Decorate the box with stickers and drawings to make it unique.
Succulent box
Succulent plants budding in a box is a great gift idea for your plant loving friends. Succulents are easy to grow because they have water-storage tissues that allow them to survive in dry environments. Even if your friends lack green thumbs, they can easily care for these plants.
Herb planter
Fill a wooden planter with your friends and family members' most-used herbs. These will give all their future meals a fresh flavor boost. Basil, mint, rosemary, and thyme are easy to grow, too.
Soup in a jar
Homemade canning jar soup mixes are a great DIY holiday gift. Use simple recipes with minimal ingredients and place in a glass jar (pint size). Attach instructions, and you are all set.
The thoughtfulness of giving handmade holiday presents will not be lost on your friends and family. They can work perfectly for neighbors, coworkers, and everyone in between. Whether you use them as fun stocking stuffers or easy-to-make hostess offerings, there is a DIY gift for each person on your list.

Tags: Savings, Money Management
---