Five Ways To Easily Manage Your Finances at Your Fingertips
December 11, 2019

The MSUFCU Mobile app provides convenience and control of your finances at your fingertips. Every day, we are working to improve and develop more features to enhance your mobile banking experience. Did you know you could do these five things on the MSUFCU Mobile app?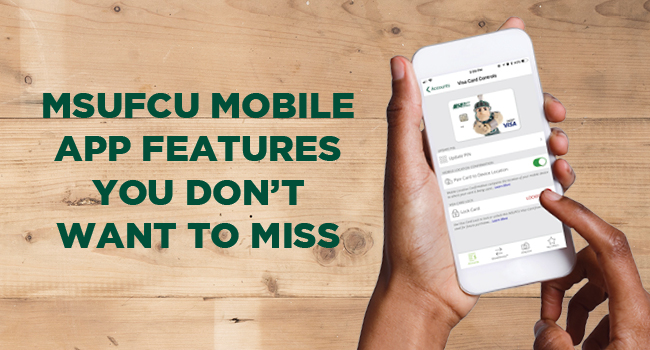 1.

Lock or unlock your Visa cards
Visa Card Lock gives you card control at your fingertips by locking or unlocking your debit and credit cards in or the mobile app. If your card is lost or misplaced, you can simply lock it, then unlock it once it's found. By locking your cards, no one can use them to make purchases.
2.

Instantly transfer money to family and friends via Member2MemberSM
MSUFCU members can now easily send money to each other instantly for free. With the addition of optional digital greeting cards, members can send congratulatory notes to recipients, wish them a happy birthday, or send one of several other greetings with a simple click.
3.

Deposit paper checks by taking a photo
Why go out of your way to deposit a check? eDeposit allows you to take a picture of your check and automatically apply it to your account anytime, anywhere. The best part? It's free, fast, and secure.
4.

Open a savings account or Certificate instantly
Do you have savings goals in mind? With the New Year just around the corner, it's a great time to consider opening a savings account or Certificate to earn more on your funds. The mobile app allows you to open a savings account in minutes and you can even personalize it with a name that reflects one of your goals.
5.

Update your travel information
If you're going out of town for a vacation or business trip, easily notify us by updating your travel summary in the mobile app. Your travel plans should be enjoyable and relaxing. By notifying MSUFCU, we can protect you from fraudulent activity and prevent your cards from being blocked in error.
Tags: Tips and Tricks
---