We're In This Together: Helping Our Members Through COVID-19
April 16, 2020

Communities worldwide are struggling with the temporary closing of businesses, schools and public facilities affected by the COVID-19 pandemic. As many people continue to cope with these drastic developments, the Credit Union is here to help its members during this time of uncertainty.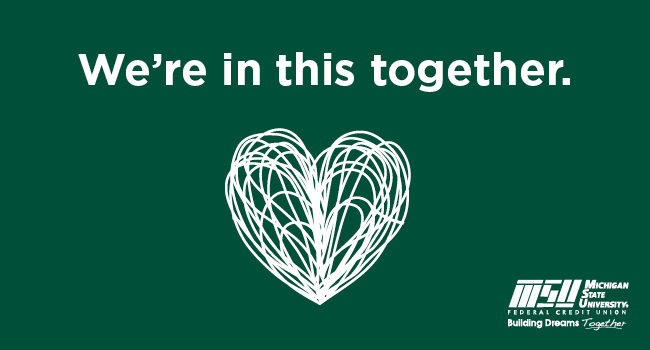 Financial support
MSUFCU is always committed to assisting members and offering support options that fit their needs — especially during challenge times. These include:
* Waived Skip-A-Pay fees
* Short- or long-term loan extension options
* Deferred payments on mortgage and home equity loans
* Member Assistance Loan with deferred payment options for both consumer and business accounts
* Deferred payments for business members
Remote account access
During the State of Michigan's Stay at Home order, MSUFCU has encouraged members to access their accounts remotely through our online account management tools. These services allow members to conduct transactions safely and securely.
MSUFCU's Mobile app provides members with 24/7 account access without leaving your couch.
* Make transfers between accounts
* Pay bills
* eDeposit: deposit checks by taking a picture with your smartphone
* Member2Member: instantly transfer money to Credit Union members
* Apply for a mortgage
* Monitor transactions
* Lock Cards
MSUFCU Visa credit or debit cards also provide members with a safe and secure way to make necessary purchases from home. All cardholders have fraud protection and if something should happen to a card, a replacement can be sent to the member.
Members needing cash can visit surcharge-free CO-OP ATMs. We also have electronic signature options for documents via email.
Branch assistance
For members who need additional services, the Credit Union is offering in-person assistance by appointment as well as drive-up branch and curbside service. Services include:
* Notary
* Signature guarantee
* Card replacement
* Cashier's Checks
We encourage members to contact us to discuss how we can help through the Call Center as well as Live Chat and secure message center, available on our mobile app and msufcu.org.
We will get through this —together.
Tags: Money Management, CU News, Tips and Tricks
---