5 Ways to Make the Most of Your Stimulus Check
April 27, 2020

Stimulus checks from the U.S. government have started to be deposited to provide economic relief during the coronavirus pandemic. Eligible taxpayers can expect to automatically receive their one-time payment of up to $1,200, depending on adjusted gross income.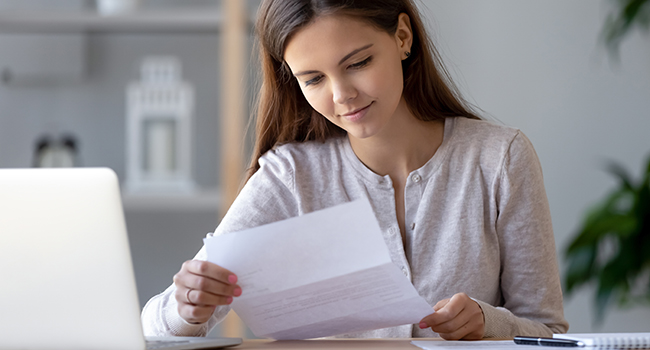 Create an Emergency Fund
It's important to have an emergency fund with at least three to six months' worth of expenses. To determine that amount, first track your monthly income and expenses with a budget planner or spreadsheet. Once you've determined how much money you can set aside, contribute that amount each month to continue growing your account. Having this fund established will help you be better prepared to pay for unexpected expenses.
Many people do not have adequate savings to cover unexpected expenses. In fact, a 2020 study from Bankrate.com found that only 41% of adults living in the U.S. have enough savings to pay for a $1,000 emergency expense.
To help members prepare for emergencies, we're excited to offer a new share account, the Savings Builder. This new blended-rate, dividend-bearing share account is tiered to encourage members to save at least $1,000 for emergency expenses. Higher dividends are paid on the lower balances (tiers).
Pay Down Debt
If you are comfortable with the amount you have set aside for emergencies, work to pay off credit cards and pay down other debt you may have, including car loans and student loans. Paying down your debts will help you get on the right track and give you more money each month to put toward your savings.
Shop Local
Buying products and services from local businesses is a great way to help keep the local economy strong and create jobs close to home. To support local businesses, consider ordering take out or buying a gift card for future use.
Participate in our #MSUFCUEatsLocal giveaway on our Facebook page. When you eat local from now until May 13, submit a photo of your takeout or delivery in the comments. You will be entered to win a $25 gift card, plus a $25 gift card to pay it forward to someone else. The more you order from local restaurants, the more chances you'll have to win! One winner will be randomly selected daily, full contest details can be found here.
MSUFCU's Local Loyalty program is exclusive to members. The Local Loyalty partners provide discounts to members when you use your MSUFCU debit or credit card to buy their products and services. Check out MSUFCU Local Loyalty partners to support local businesses and receive great discounts in return.
Give Back
We know this is a stressful and uncertain time, but our community is resilient and we have a long history of coming together to help one another. There are always organizations seeking help and if you feel that your stimulus check could be better utilized by helping others, consider donating all of it, or even a portion of it, to your favorite organization.
Earn More on Your Savings
Opening a certificate is a great way to earn dividends on your savings over time. You may select an MSUFCU Certificate term from 3 months to 5 years, depending on your specific goals.
Insured Money Management Accounts (IMMAs) are another great way to earn higher dividends on balances of $2,000 or more. IMMAs allow members immediate access to their funds. If the balance falls below $2,000, dividends are not earned, but no fees are assessed. An IMMA is a tiered account, which means as your balance reaches each higher tier, the dividend rate increases for the entire balance.
Looking for your stimulus payment?
The Treasury Department and Internal Revenue Service recently launched a tool through which Americans can register and track their stimulus checks, to learn more click here.
Tags: Budgeting, Tips and Tricks, Savings
---