How to Maintain Your Financial Health During COVID-19
May 21, 2020

Staying healthy is our number one priority, but it's important to be extra mindful of your financial health — even if your income hasn't been impacted by COVID-19. Here are some ways to keep your finances in good shape during these unprecedented times.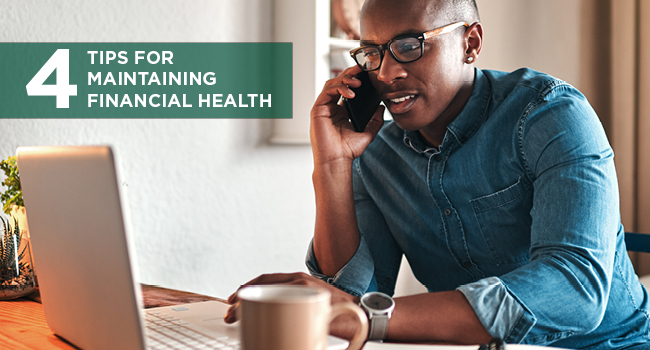 1. Get financial assistance now
If the COVID-19 pandemic has affected your income, there are many resources to help you maintain your financial health. If you are unable to pay a bill, contact your lender before missing a payment. Many financial institutions are offering loan deferments, loan extensions, and refinancing options to lower interest rates.
It is important to contact your lender early and be straightforward about your current situation. Taking advantage of assistance and available resources now will benefit your short- and long-term financial health.
2. Find ways to save money
If you are looking for ways to save money, refinancing an auto or mortgage loan may be a good place to start. This is a great time to refinance because interest rates are low, and if your credit score has increased since financing your home or auto, you could qualify for a better rate. You could potentially save hundreds or thousands of dollars over your loan term. Contact your financial institution to discuss how to get a lower rate. You can also check out our calculators here.
3. Build an emergency fund
Navigating these times is challenging and confusing even if you're able to keep a steady income. To help reduce financial stress and prepare for any future uncertainty, this is a good time to start or add to your emergency fund. At this time, you may be saving money on commuting and entertainment expenses, or avoiding impulse-purchases because of the stay-at-home order. You can deposit those savings to increase your emergency fund — this will help you avoid having new or more debt if you need to cover unplanned expenses.
There are many savings options offered by financial institutions to help you start an emergency fund. For example, MSUFCU has introduced its Savings BuilderSM account designed to help establish an emergency fund faster by paying the most on initial and smaller contributions. This is different from traditional savings accounts that require larger deposits to earn the highest rate. Here, take a look at the difference: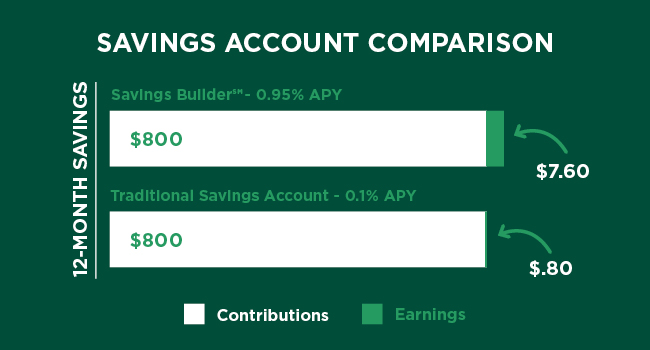 4. Reduce financial stress
Once you have an emergency fund, you can get ahead on loan payments and other bills now to help you be better prepared to handle any unexpected expenses or loss of income if your current situation changes.
Keeping your finances in good condition during this time can be difficult, but using these strategies can help improve your financial situation. Take the steps needed today to make sure you stay on the right financial foot now and in the future.
Tags: Money Management, Savings, Tips and Tricks
---