Tap to Pay Technology Offers Contactless Pay Options
July 2, 2020

Contactless payments exploded in popularity in spring 2020 when the coronavirus upended how many people think about their daily interactions, including how they pay. But social distancing aside, do these advances actually make life any easier and safer?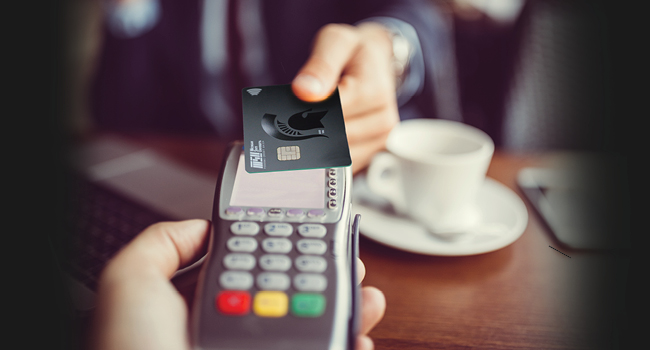 Using debit and credit cards to tap to pay offers a safe, convenient, and secure way to purchase items with minimal exposure. And it is becoming widely accepted. According to a Forbes article, more than 60% of Visa payments are made using contactless cards and 75% of the top 100 merchants accept contactless payments.
More people are joining in on the trend: According to VISA, 31 million Americans tapped a Visa contactless card or digital wallet in March 2020 — up from 25 million in November 2019. Overall usage of contactless payments in the U.S. has grown 150% since March 2019.
In an April survey by Mastercard, 82% of 17,000 consumers in 19 countries said they view contactless payments as "the cleaner way to pay."
Is it secure?
Contactless cards use near-field communication (NFC) to talk to card readers when performing a purchase. When the card is held one or two inches from the reader, a one-time code is sent with account information that doesn't expose actual account details. By sending a unique code for each purchase, consumers won't have to worry about their account information being misused or stolen.
Using contactless cards to conduct transactions offers more than just reducing the amount of items consumers touch. These types of cards can make it harder for thieves to steal information compared with magnetic-stripe cards. Mobile payments and contactless cards don't transmit the account holder's name, card number, or three-digit security code.
How does it work?
Tap to pay with a card on the contactless system when prompted by holding the card a few inches away. Once a payment confirmation is received, the transaction is complete. Another advantage contactless payments provide compared to EMV chips is an increase in speed. Typically, a contactless payment takes one to two seconds to complete the transaction.
As everyone continues to navigate the new normal of a world with coronavirus, having a touchless, secure way to pay can provide some peace of mind.

Tags: Credit Cards, Security, Tips and Tricks
---