Fraud Prevention Series: How to Avoid Cyber Fraud
October 6, 2020

Some of the most common ways fraudsters try to access your personal information is by sending harmful links in an email or stealing data from places where you have accounts. Personal information, such as Social Security numbers, financial accounts and credit card numbers, can be used to set up counterfeit accounts or gain access to existing accounts. Here are some tips to avoid this type of deception known as cyber fraud.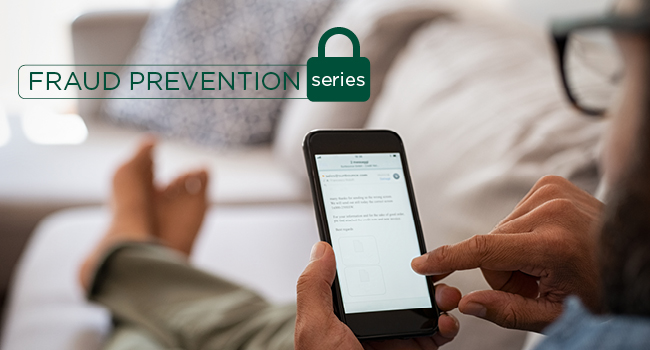 To avoid possible cyber fraud, you need to reduce the ability of thieves to access your personal information. Protecting your email is a good place to start.
Sending spam through email attachments or links is a common way fraudsters try to obtain information. Contacts can be imitated and false websites created to look like legitimate entities where you have accounts. It is a good practice to not open or click on any attachments or links unless you are certain it is safe.
Closely monitoring your social media is another step to take to protect your identity. Keep your social media safe by controlling who can see your posts. Not including personal information on your profile, such as your birthday, hometown, and workplace, as well as not sharing publicly will reduce the possibility of being scammed.
Hacking your passwords is another way fraudsters can obtain access to your finances. Having strong and different passwords for each of your accounts is important. A good rule of thumb is to create a password with at least 12 characters, which includes a random combination of symbols, capital and lower-case letters, and numbers. Also, using multifactor authentication and password protection on your devices adds extra security for your information.
Finally, even your own laptop or computer can be breached by hackers. To keep this from happening, security experts recommend covering your webcam and microphone with tape, and installing ransomware software to help protect you from possible fraud.
To monitor for account fraud, set up alerts with your financial institution's mobile app to receive text messages or emails for transaction notices. These can help you track fraud immediately if there are any suspicious or unexpected charges on your accounts. Learn more about eAlerts at msufcu.org/accountaccess.
If you find you are a cyber-fraud victim, contact the company where the fraud occurred, close or freeze accounts, change logins and passwords, and ask for any fraudulent charges to be removed. You may also want to file a police report, depending on the severity of the theft.
While there is no guarantee you will avoid cyber fraud, following these steps will help you reduce the risk.
Tags: Fraud Prevention Series, Security, Tips and Tricks
---