Fraud Prevention Series: How to Avoid the Latest COVID-19 Scams
April 13, 2021

According to the Federal Trade Commission (FTC) as of March 16, 2021, more than 388,000 complaints related to COVID-19 and stimulus payments have been reported, costing consumers $372.6 million.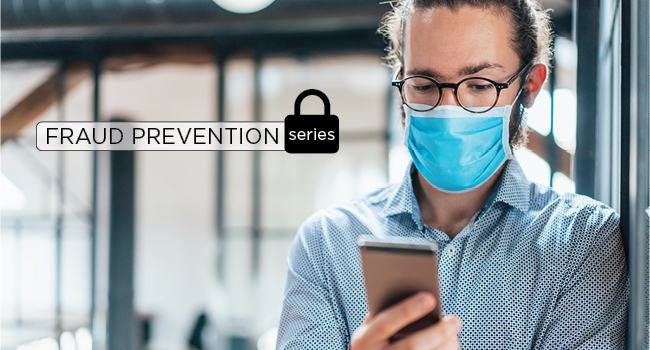 Using many scam tools, including social media posts, emails, and text messages, fraudsters continually adapt their messages and tactics. With the ever-changing scams, it's important to be aware of the latest ways fraudsters are trying to take advantage of you.
The third round of stimulus payments may cause more attempts to access these government payments, as did the first two rounds of pandemic aid.
Be aware of unexpected emails, phone calls, or text messages that appear as if they are coming from government agencies, and instruct you to click a link, "confirm" personal data, or pay a fee to obtain your stimulus check. In addition, a Facebook message scam promising to help you get "COVID-19 relief grants" has also been reported.
To protect yourself, never click on links from suspicious email senders, and do not give away any personal information over the phone or via text message if you did not initiate the conversation.
Unfortunately, there are also instances of false contact tracers calling, or sending text messages to consumers warning of possible exposure to COVID-19. They
may ask for personal information, money, or include a link that, if clicked, downloads malware to your computer.
Be aware, legitimate contact tracers would not ask you for money or any sensitive information linked to your finances.
During times of uncertainty, it is important to be cautious when you receive unsolicited contact, even from what appears to be a government agency, or legitimate business. Before you provide information, or click on a link, be sure to check out the organization on your own.
Tags: Fraud Prevention Series, Security, Money Management
---