Providing Innovative Solutions for Members Resulted in The Lab at MSUFCU
July 22, 2021

With more MSUFCU members interacting with the Credit Union digitally, we've created additional ways to connect beyond the mobile app through The Lab at MSUFCU. E
stablished in 2020, The Lab team identifies, creates, and executes opportunities for innovation at the Credit Union. By devoting resources to cultivate an entrepreneurial mindset, collaborative ideas are generated for pilot programs and eventually introduced as new products and services for members and employees.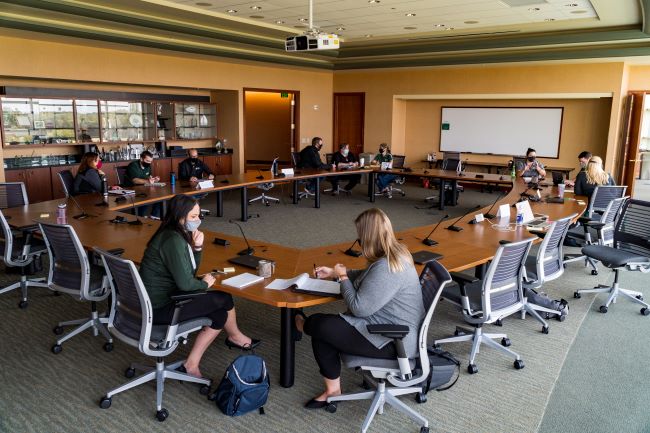 The Credit Union initiated The Lab to provide members technology to help them improve their financial situations, wherever they are in life.
Part of the process at The Lab is to support startups who offer technology partnerships. As opportunities are identified, they are brought to the pilot stage. To start, MSUFCU employees test the product, and later, members are included in the testing phase.
The Lab also brings MSUFCU employees together who have differing roles and experiences throughout the workplace. This helps the team approach ideas from multiple angles and develop holistic solutions to fulfill unexpressed needs and emerging market expectations for members.
These employees work to identify member needs, and then fintech startups who can offer solutions to meet those needs are contacted. These technology-based solutions allow members to get closer to their financial goals, whether it be preventing fraud, improving financial wellness, or reducing student debt.
Set up with an agile, "fail fast" mentality, employees are able to explore and test new opportunities before long-term investments are made. Members are also invited to be part of the piloting process and try the new innovations as they become available. This allows The Lab team to incorporate member feedback into the digital development.
Current technologies in the pilot phase include:
CVVKey – Reduce fraud by securely registering your Visa Credit Card to receive new and unique CVV2 codes to use while shopping online or over the phone.

FinLife – Manage with your finances on another level through the education and guidance from financial planning experts.

ChangEd – Pay down student loans sooner and for less by using spare change from everyday purchases to make additional payments.

Nickels – Manage your student loan debt and receive digital, personalized, student loan guidance.

Financial Concierge – A virtual assistant integrated into ComputerLine, MSUFCU's online account management system, connects you with a tailored mix of financial resources to help you achieve your goals.

GreenPath Financial Coach - A virtual financial coach puts more information into your hands to allow you to make the best decisions about your financial health and wellness.
For more information or to sign up to be part of testing these technologies, visit msufcu.org/thelab.
Tags: CU News, Money Management
---