How to Help Your Children Become Financially Savvy Adults
April 7, 2022

Teaching children about money early in life can help them learn healthy financial habits that will last a lifetime. Children who learn how money works at an early age often make better financial decisions — whether it's budgeting to buy a toy they want or determining which car to buy.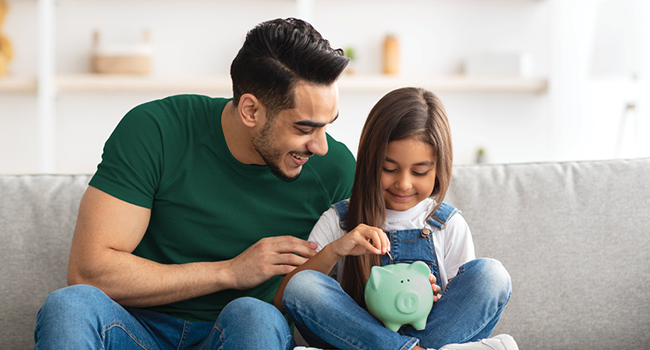 One of the first steps to encourage healthy financial habits is to have a savings account. From there, you can share the fundamentals of building a savings account and creating savings goals.
Many children (and adults) learn by doing. Show your children how to make deposits, withdraw money, and purchase items using funds in their accounts. This not only teaches basic money management skills, but also gives children a sense of ownership and control over their earnings.
To introduce budgeting, have your children plan for a family home-cooked meal. Help them understand that spending money on one item may keep them from having enough money for other items (such as dessert!).
When you go grocery shopping, give your child your list and budget. Then, have them select items and subtract the cost of each item as they add them to the cart. This is great way to teach about wants versus needs and how to maintain a budget.
One of the ways MSU Federal Credit Union (MSUFCU) promotes learning money management skills is by celebrating National Credit Union Youth Month each April. This year's theme "Save Small, Dream Big" encourages children to develop healthy financial habits by making saving fun and exciting.
We're offering a free gift to all youth members who visit an MSUFCU branch throughout the month of April. Plus, we're hosting a "Save Small, Dream Big" sweepstakes — all youth members who deposit at least $50 into their accounts by April 30, 2022 will be entered to win one of five $100 1-Year Add-On Certificates. Visit msufcu.org/youthmonth for details.
MSUFCU offers youth accounts with interactive tools and resources to start the savings process and make learning financial basics fun and engaging. We offer five youth accounts:
Sweet Pea (ages 0-2)
Dollar Dog (ages 3-6)
Cyber Saver (ages 7-10)
Money Club (ages 11-13)
CU Succeed (ages 14-17)
All MSUFCU youth members receive one virtual coin for every $10 deposited into their accounts. These virtual coins may be redeemed for items in the Youth Store through ComputerLine®, MSUFCU's online account management system.
Making saving a habit is an important life lesson you can teach children today. Learn more about MSUFCU's youth accounts at
msufcu.org/youth
.
Tags: Savings, Money Management, Community
---