Fraud Prevention Series: Tools to Enhance Your Financial Security
April 12, 2022

In today's fast-paced world, many of us have become accustomed to highly personalized, engaging experiences, such as one-click shopping, voice-activated searches, and home assistants. With this, we have come to expect advanced technology to ensure our finances and sensitive information stays safe and protected. Take a look these tools to stay in control of your financial security.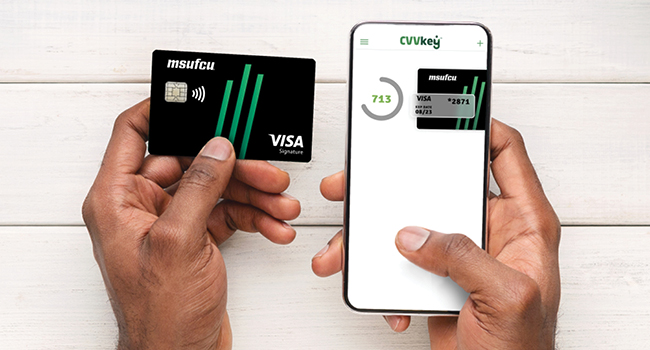 With the ever-changing, fast-paced world comes more risk and therefore security is key. Before downloading mobile banking apps, make sure the app you're considering offers features to keep your account safe and secure – and prevent fraud before it happens. These may include:
Card Lock: allows you to lock and unlock your credit or debit card using the app if you've misplaced your card and without having to call or visit a branch
eAlerts: shows daily account balances, transactions, check clearings, and more.
CVVkey: securely enroll your Visa Credit Cards to receive new and unique CVV2 codes each time you shop online or over the phone
Wherever you are, a mobile app allows you to have secure access and control of your financial accounts at your fingertips. MSUFCU offers a robust mobile app free to members. For more information, click here.
Tags: Fraud Prevention Series, Credit Cards, Tips and Tricks
---